Pie/Quiche linie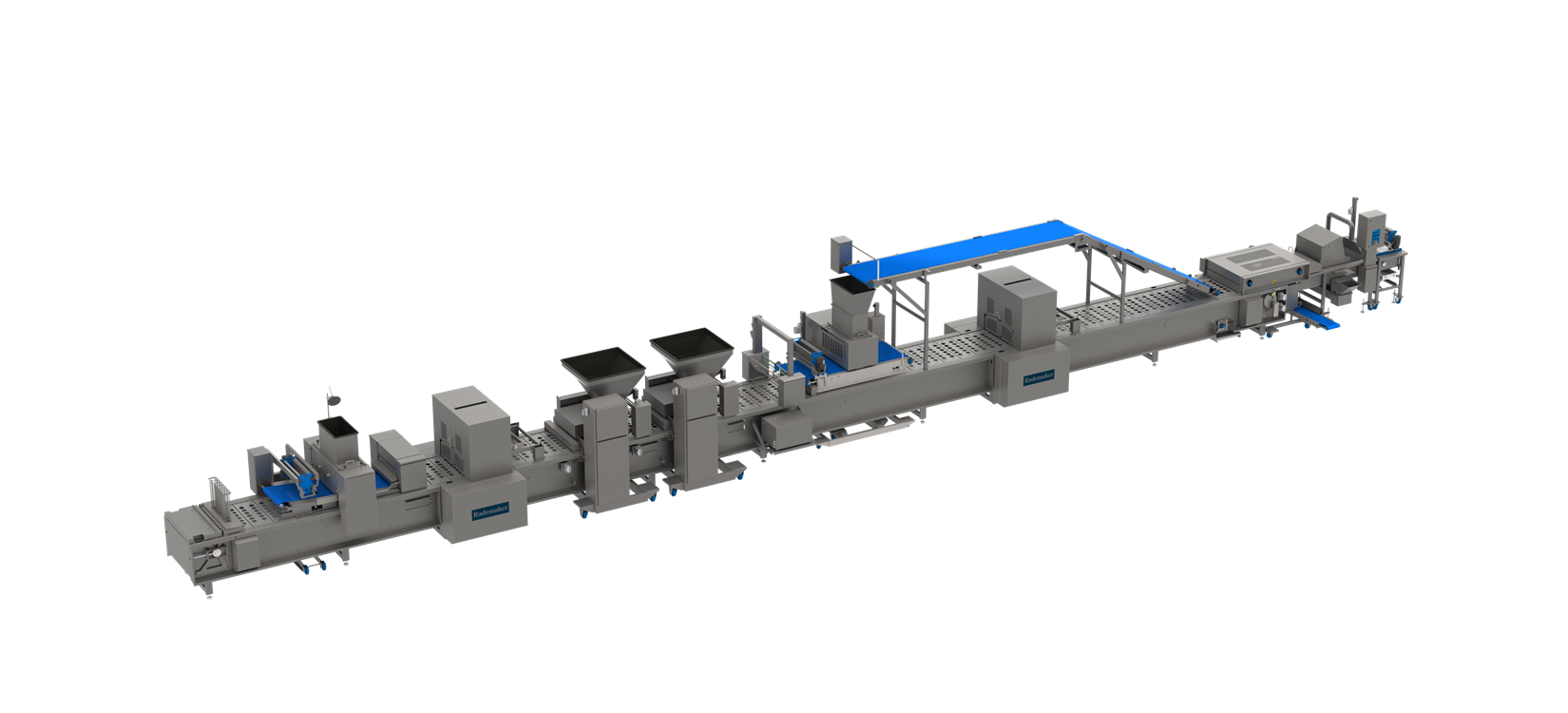 Foil applicator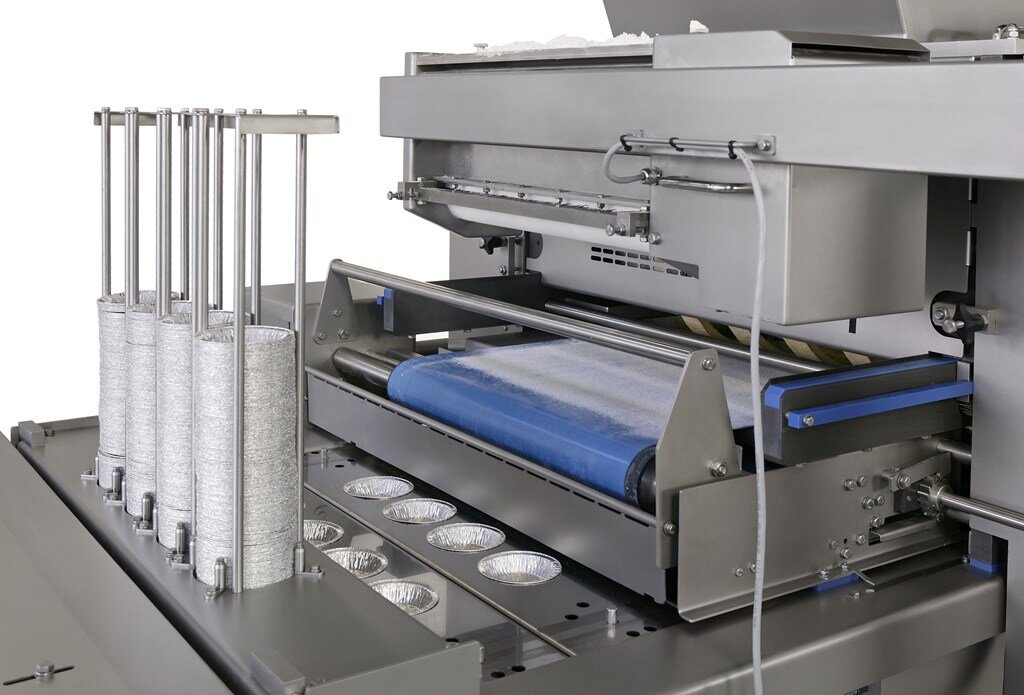 The foil applicator is provided with a vacuum system to ensure that the foil is correctly placed.
Dough processing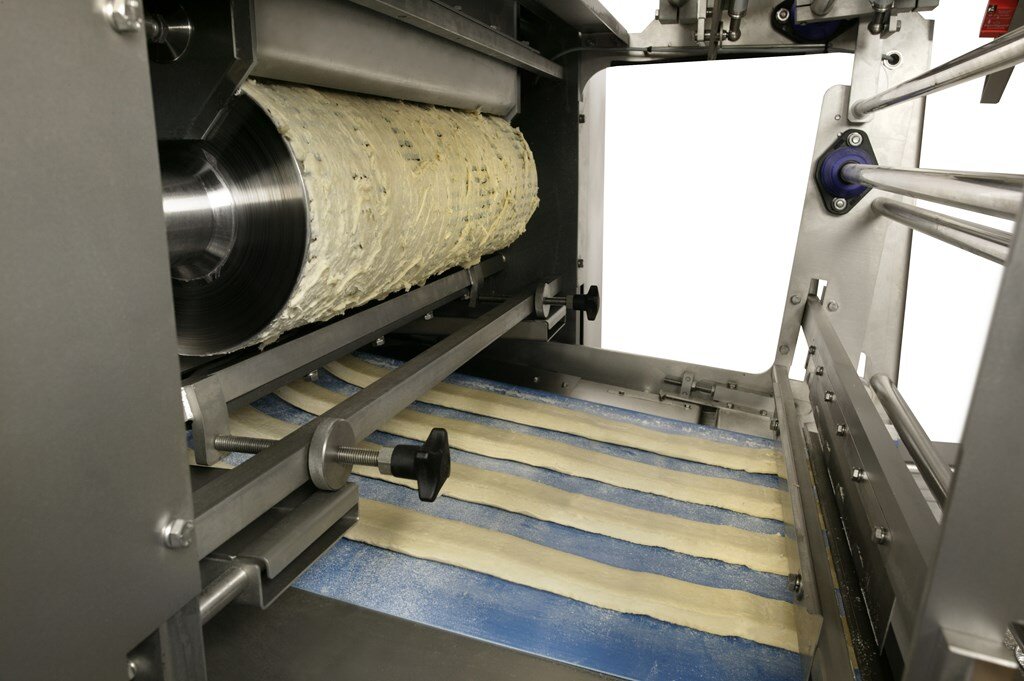 The Rademaker Stripfeeder produces the required number of dough lanes. These dough lanes are transported towards a mechanical guillotine, that cuts the dough lanes in dough pieces/billets. After this cutting, the dough pieces are placed in the foil.
The combination of the stripfeeder and mechanical guillotine ensure a very accurate dough weight.
Blocking device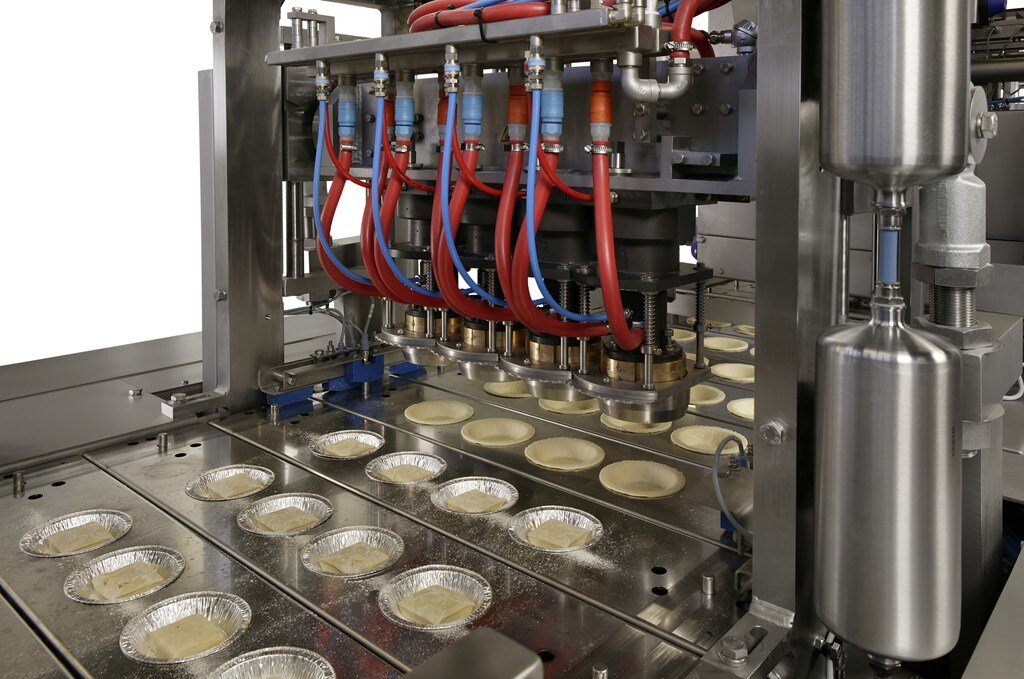 The dough billets are blocked to the desired shape without any scrap by a servo driven press. The blocking head is water heated for a precise and reliable operation.
Depositor
Rademaker supplies a broad range of depositors to allow an even wider range of fillings: liquid and semi-liquid or viscous materials, with or without chunks of meat or fruit.
Applying a lid
When a lid is desired on top of the pie, we offer two options to cover the pie. A lid can be applied by use of a rotary moulder. This unit can produce individual decorative lids. A second alternative is the integration of a lattice unit to the Pie line.
Crimping unit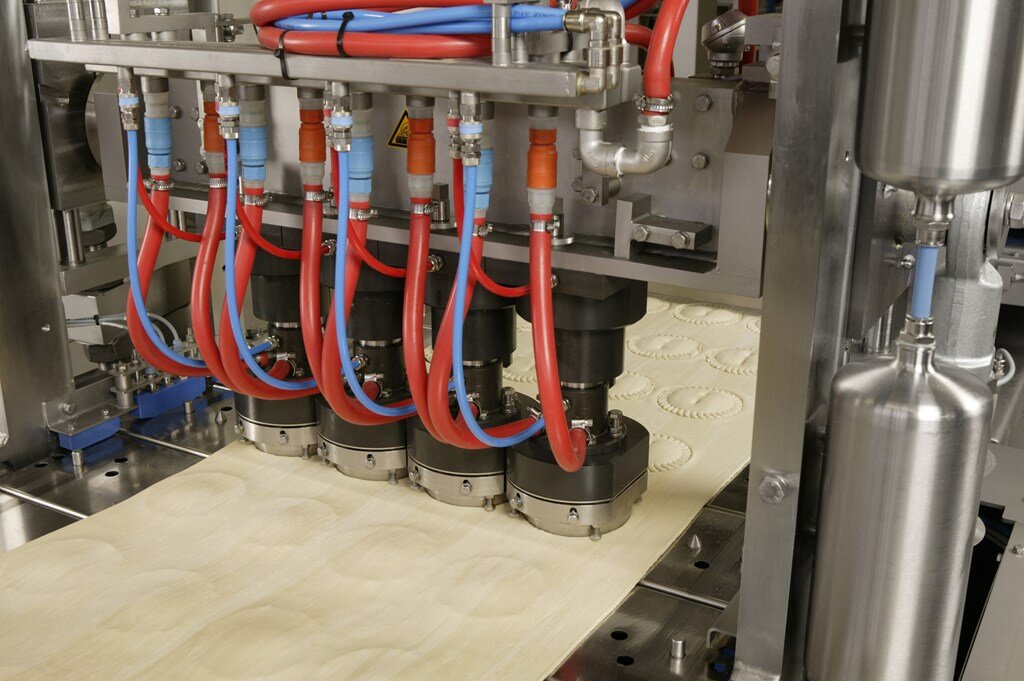 The servo driven crimping unit seals the lid to the base of the pie. The crimp decoration can be designed to your specifications. The easy exchange of crimping heads enables you to create a large range of different decorated products. The crimping head is also water heated.
Rework station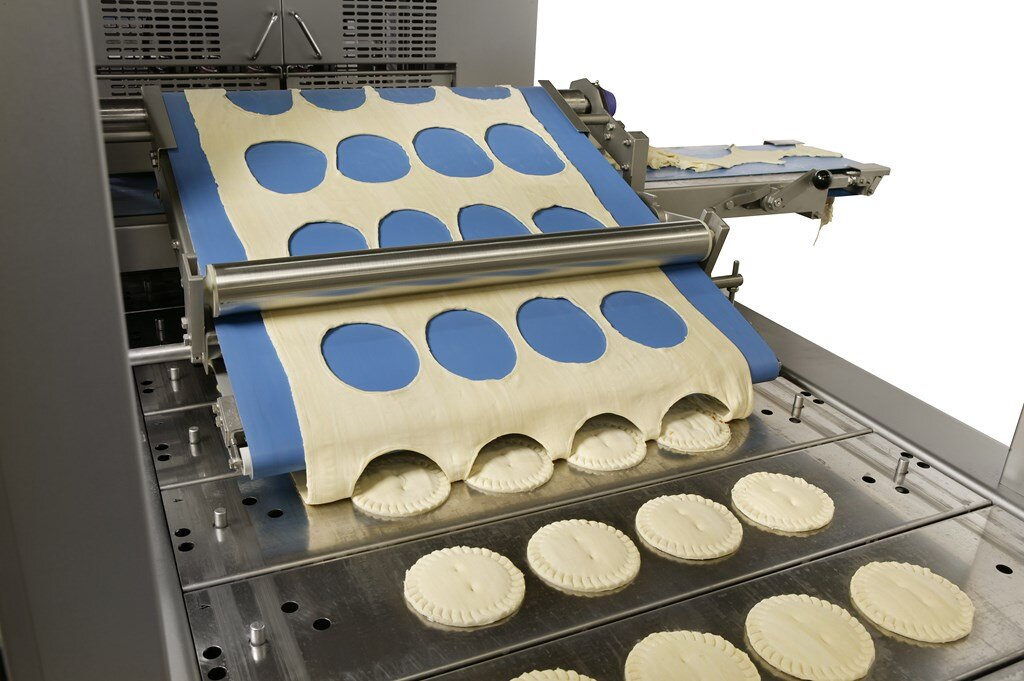 A rework station is placed to transfer the scrap dough back towards the lid conveyor. This way we prevent dough waste. 
Outfeed system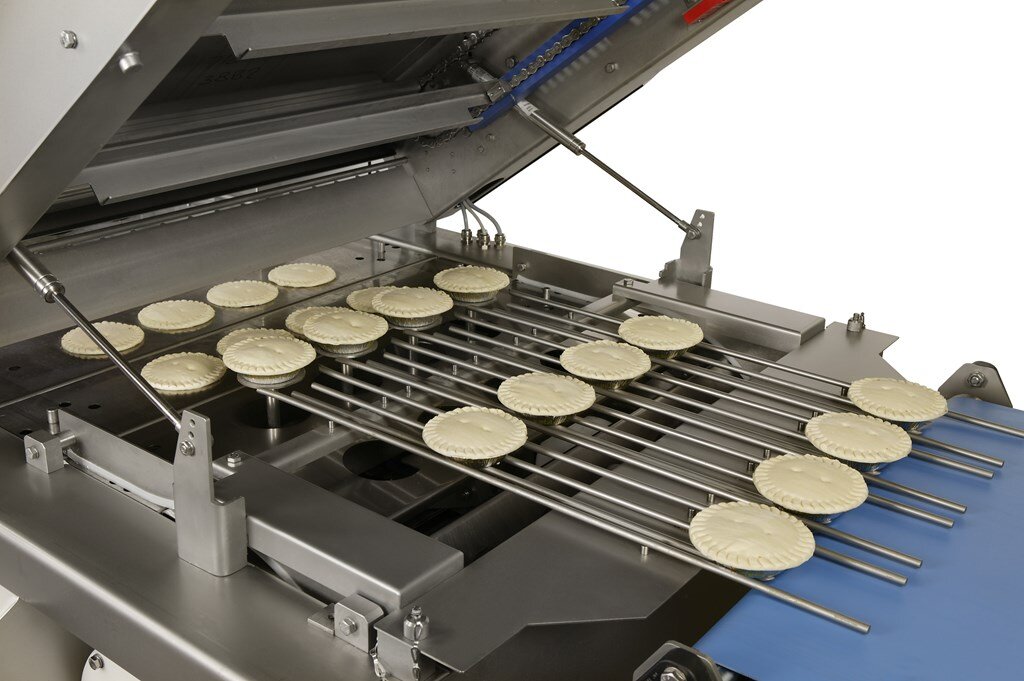 The outfeed system transfers the pies from the conveyor towards the oven band, freezer infeed or trays.
Einer ausgezeichneten Investitionsrendite
Schnelle, einfache Umrüstung und Reinigung
Hygienische Ausführung
Standard- und maßgeschneiderte Lösungen möglich
Kapazität
Die Pie- und Quiche-Linie von Rademaker wurde für mittlere bis industrielle Bäckereien entwickelt. Die Produktionskapazität ist je nach Größe, Teigart und Füllung unterschiedlich, reicht jedoch von 5.200 Stück/Stunde (Produkt mit 250 mm Durchmesser) bis 20.000 Stück/Stunde (Produkt mit 80 mm Durchmesser). In Tandemausführung kann eine Kapazität von bis zu 40.000 Stück/Stunde erreicht werden.
Die Produktion ist in Aluminiumfolien, Papierbehältern, Metallbackblechen, eingezogenen Backblechen und vorgeformten Backblechen möglich. Die Produktdurchmesser reichen von 50 bis 282 mm.
Arbeitsbreiten
›    600 mm
›    600 mm
› 1,000 mm
› 1,200 mm
Produkte
Eiertörtchen/Pastel de Nata ungefüllt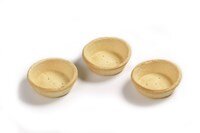 Eiertörtchen/Pastel de Nata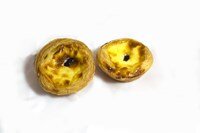 Fleischpastete
Obstkuchen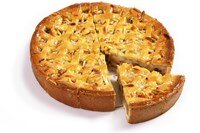 Melton pie
Quiche
Verschieden geformte Kuchen