Added value
Innovative solutions for anykind of product
Tailord made lines based on you requirements
service & maintain a wide range of equipment & systems
Automate your bakery in 1 go or modulair
Radilinq offers smart, innovative solutions for anyshape
Radilinq Line Concepts
Welcome to Radilinq Line Concepts, where innovation meets precision in crafting state-of-the-art solutions for bakery production. Our meticulously designed systems offer unparalleled flexibility, automating processes while allowing tailored adjustments for diverse bakery needs. Experience streamlined operations, enhanced efficiency, and reliability at every step. Explore how our cutting-edge technologies revolutionize bakery production—unleash your bakery's potential with Radilinq.
RADILINQ LINE CONCEPT:
Long Proofing Time Products
The Radilinq line concept for products requiring extended proofing times, such as long-shelf-life croissants, offers a versatile and adaptable solution. This concept comprises standardized systems that automate an entire line or can be selectively employed for specific line sections.
This flexibility enables customization to match investment levels and operational requirements. Each system includes user-friendly line controls and an intuitive HMI (Human-Machine Interface) for safe and efficient operations across various machines.

Free Baked Products
For producing free baked bread, the Radilinq line concept offers a readily implementable solution adaptable to individual bakery requirements. It's a proven concept that can be tailored for each production location, integrating advanced line controls and an easy-to-use HMI for operational efficiency and safety.
The process involves automated movement of flat-surface peel boards through various stages like dough depositing, proofing, scrabble oven loading, oven unloading, cooling, and conveyance. Each step is designed for reliability and flexibility, ensuring a swift transition from production to a profitable line setup.

Frozen Dough Products
The Radilinq line concept for frozen dough streamlines the conveying of dough pieces from the make-up line to the freezer, either via a proofer or directly. This concept emphasizes simplicity and reliability, ensuring products reach the proofer and freezer in the same condition as they left the make-up line.
The system comprises a versatile conveyor setup that maximizes flexibility while maintaining hygiene standards. It allows products to follow distinct paths, either through proofing or bypassing it, ensuring seamless movement through various stages.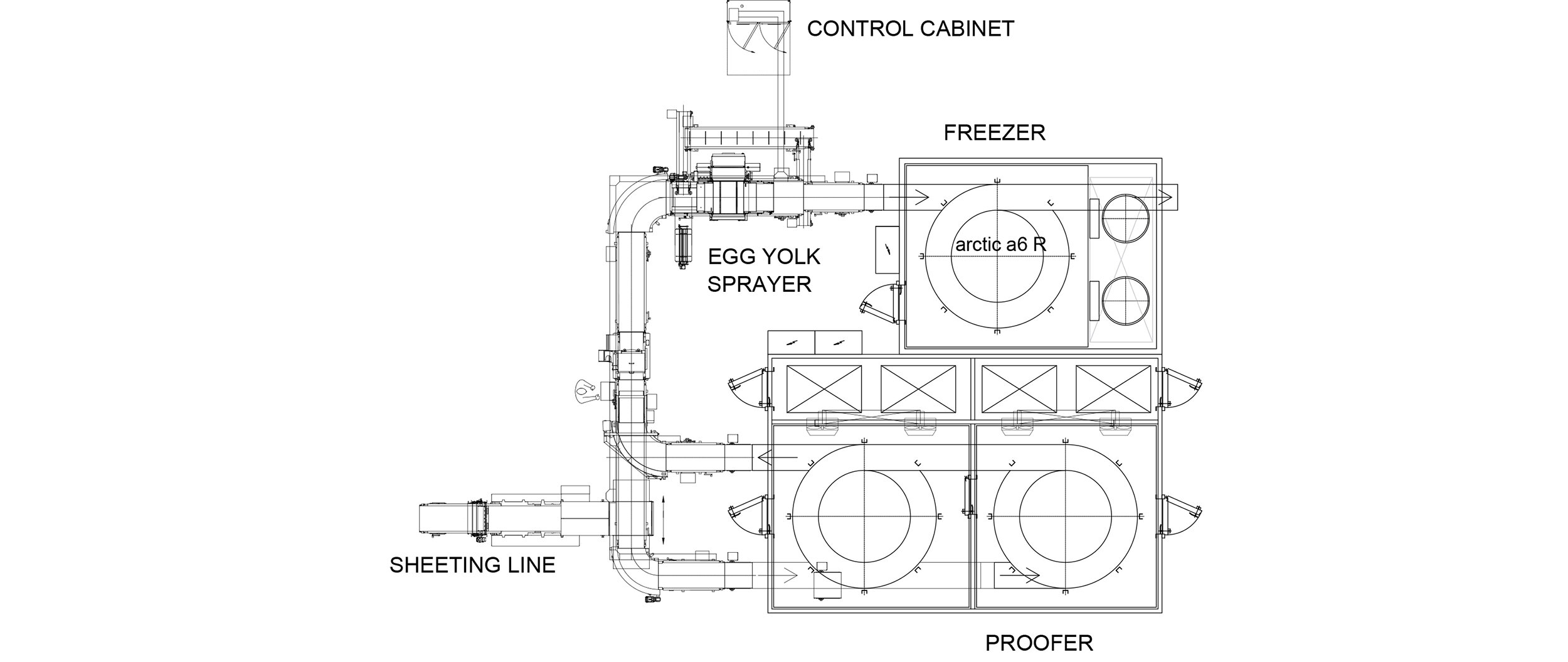 Toast & Sandwich Bread
For producing sandwich bread & toast, the Radilinq line concept offers a proven, off-the-shelf solution that can be further customized to meet specific bakery requirements. It integrates advanced line controls and an intuitive HMI for operational ease and safety.
The line concept automates the movement of pan-straps through multiple stages, from dough depositing to final proofing, decoration, oven loading, unloading, cooling, and cleaning. It caters to the precise needs of each stage while ensuring quality loaf production and operational efficiency.

GET IN TOUCH WITH US
At Rademaker we can deliver different types of bakery production solutions for your specific needs. We are excited to be of value for you!
Are you interested in our Bread line? Feel free to contact our sales team through +31 (0)345 543 543, send an email to sales@rademaker.nl or fill out our contact form.
We are happy in welcoming you to a partnership finding the best solution for your bakery!