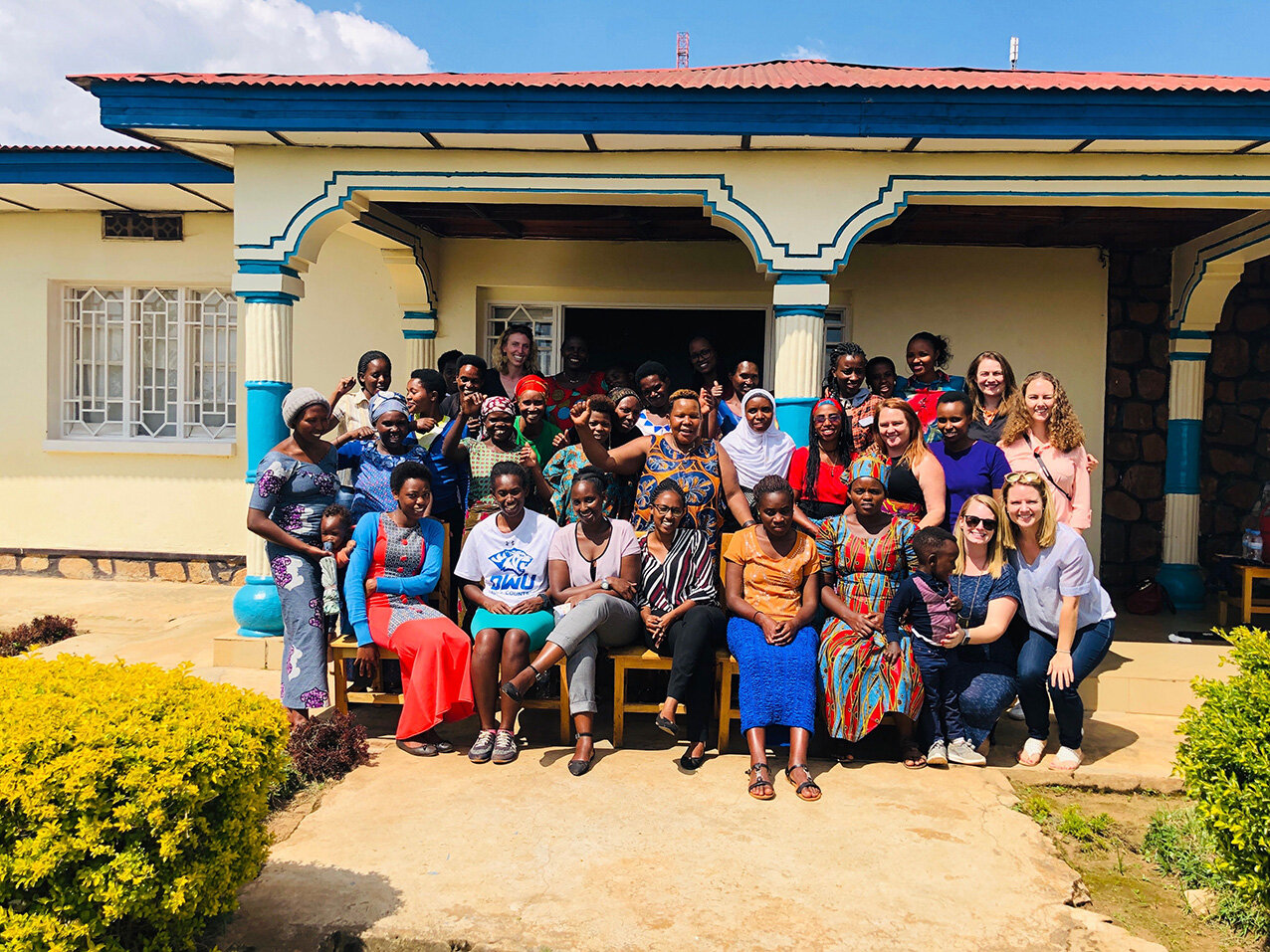 Project #Breadpower
Promoting healthy, nutritious and affordable breads
Update February 2019
The year 2018 marked the first year of the partnership between The Women's Bakery (TWB) and Rademaker. Together we worked on improving existing products and introducing new recipes. We looked for ways to engage our network partners at the IBA and are proud of the 2018 achievements! So, when TWB asked us to tackle a particularly difficult project we were very excited to hit the ground running.
Making nutritious "doughnuts"
TWB requested Rademaker expertise on a very specific topic: the creation of a healthy Amandazi. The Amandazi is a vastly popular product not just in Rwanda, but across the continent and it goes by many different names. The Somali reference could be either Bur Saliid or Khamiir. In Swahili speaking countries, like Kenya and Tanzania, it is known as Mahamri, Mandazi, or Amandazi. In Western African countries, like Nigeria it is called Puff Puff and in Mozambique it is referred to by the Portuguese name Malasadas, or Fat Cakes. This last one refers to the essence of the product: deep-fried dough. For Dutch reference a Mandazi most closely resembles an Oliebol.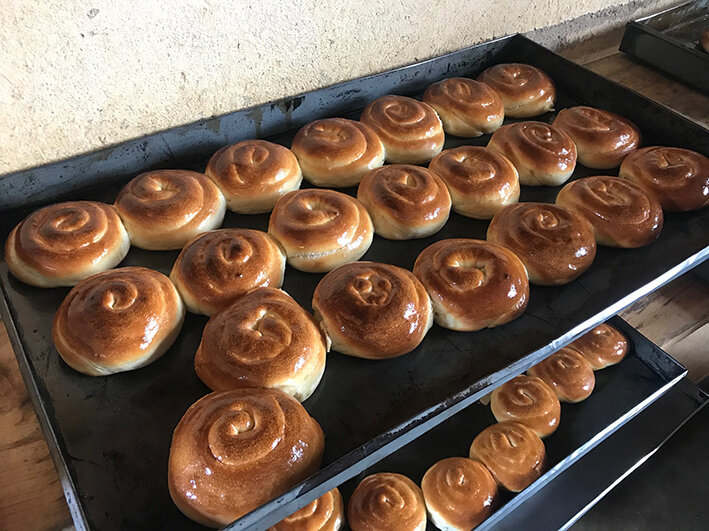 For people in rural Rwanda it is quite common to eat once a day. This meal is often accompanied by Amandazi. The product can be eaten sweet or savoury, spiced up or eaten just plain. The Amandazi has many advantageous properties. It is easy to store and has quite a long shelf-life. It can be made the night before, eaten cold or reheated. It is quite affordable, easy to produce and available even in remote locations. Lastly, its high-fat content gives people the feeling of being full and reduces hunger feelings for long periods of time. However, it is this exact same fat that causes the product to be so unhealthy. There is a high content of saturated fats in the product that can lead to heart and coronary diseases. Furthermore, the traditional Amandazi does not contain a lot of essential micro-nutrients, vitamins, minerals or even whole proteins. For this reason, TWB has not produced or sold any Amandazi as the traditional product does not meet their nutrition requirements. However, given its popularity, producing a healthier alternative could be a ground-breaking change.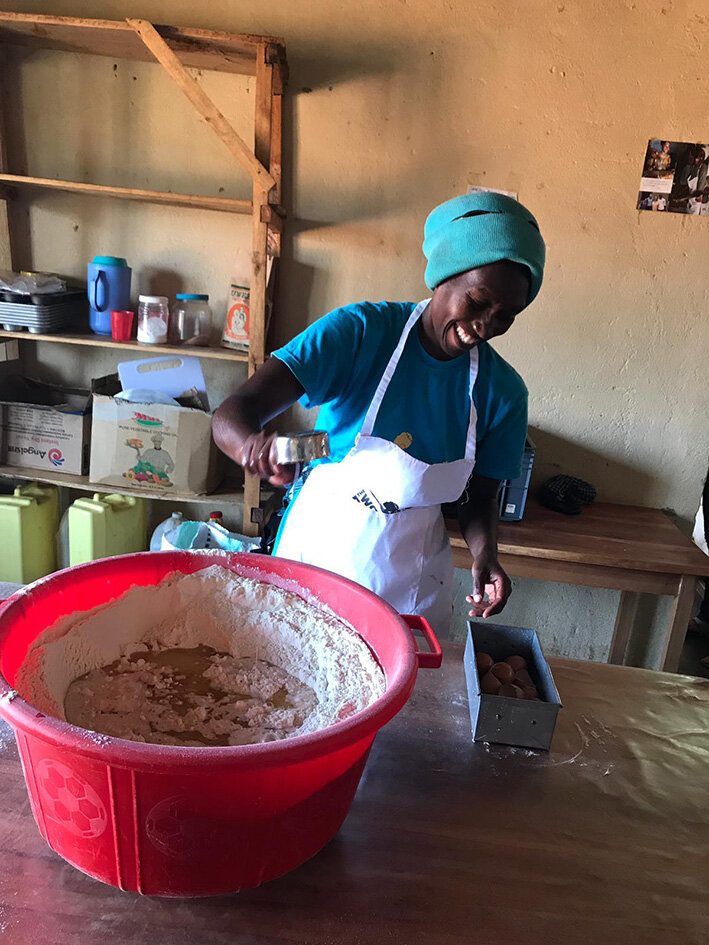 Small steps
The Rademaker dough technologist spent considerable time to prepare Amandazi's in The Netherlands and test different recipes to create healthier options. But it was only in Rwanda that we truly learned what a traditional Amandazi should look, smell and taste like. With this knowledge we could further refine our tests and look at different ingredients and production methods.  
The first thing we noticed was that the Amandazi dough was underdeveloped and cut casually before deep-frying. This causes the surface to be very porous and functions almost like a sponge, sucking up a lot of fat.  By better developing the dough and rounding the pieces, we strengthened the surface barrier leading to less fat absorption.
To make the Amandazi more nutritious we experimented with different ingredients. By substituting some of the flour for sweet potato puree we were able to increase many of the important micronutrient and vitamin contents of the Amandazi. After many different tries, we finally were able to produce a recipe that tasted and looked similar enough for the bakers at TWB to accept it as the Amandazi they knew and loved.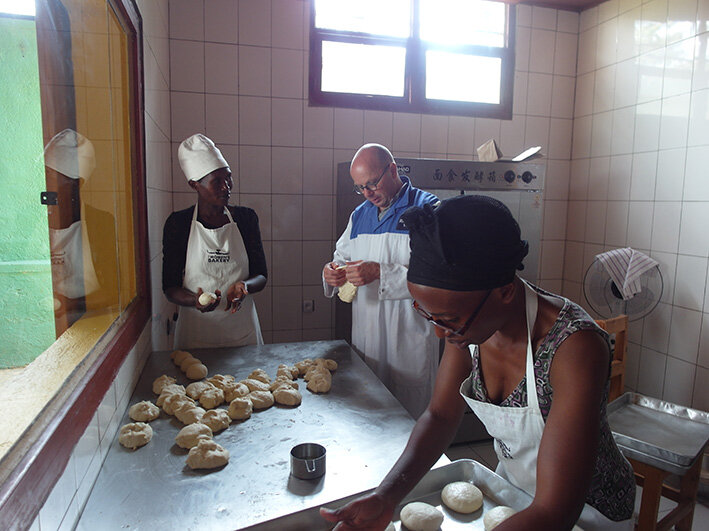 Big impact
Rwanda has a 32% prevalence of undernourishment1, which is often attributed to the shortage of food. However, it is not only the quantity of food, but also the quality causing malnutrition. This phenomenon is called "hidden hunger" and often leads to stunting, the irreversible developmental stagnation in children. While the Rwandan government has taken great strides to improve malnutrition, there is still a 38% prevalence of stunting amongst children under the age of 52.
Poverty is not just the lack of economical means, but also the absence of choice. This is why we truly believe in giving people, especially those with limited incomes, nutritious and affordable options. With significantly more fiber, vitamin A and B, calcium, iron, magnesium and potassium, we believe we can make a small but meaningful difference in malnutrition.
Widening horizons
Besides working on product development, Rademaker also visited the newest bakery in Gicumbi. This bakery is located near the Gihembe Refugee Camp, which is Rwanda's oldest refugee camp. This bakery employs twelve women of whom half are refugees. These women are particularly vulnerable and have such limited options when it comes to obtaining sustainable, gainful employment. Through training and consistent income, TWB seeks to bridge these gaps. As these women gain confidence and economic security, they do not just change their own future, but also spark change in the lives of their families and communities. Their struggles, stories and strength only show how important the work is that TWB does. This is why we are so proud to share the small contribution that Rademaker is able to deliver through Project #Breadpower !