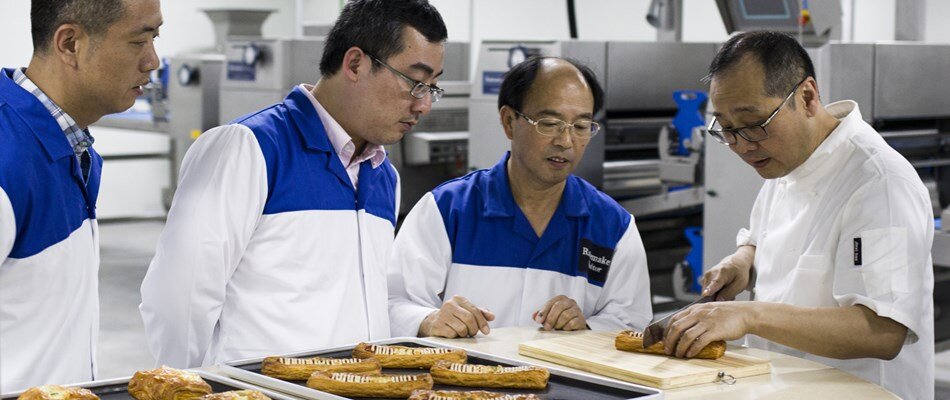 Rademaker China technology centre
Rademaker China Technology Centre (RCTC) officially opened its doors in Hangzhou, China. We are proud to say that there was a large interest in the opening. Besides our partners Fortune Foods and Larive, the Dutch Embassy, represented by the Consulate General of the Netherlands in Shanghai, various local bakery consultants, Chinese bakeries and the Chinese media were present.
The RCTC is a unique, high tech climate controlled testing facility in China. With this facility, with a total floor space of 872 m2, we will support the Chinese Bakery industry to professionalize, both in quality and in growth. With our expertise, we bring European technology towards China to produce Chinese bakery products.
A Rademaker Laminator and DoFlex are available for product and production process testing. Besides Rademaker production equipment, mixers, proofers and ovens are available to make sure a full production process can be simulated. Besides testing, the RCTC offers several Meeting and Presentation rooms to make sure a professional location is offered that will lead to satisfying customer solutions.
''Our goal is to develop your business and products based upon the existing technologies, or technologies to be developed in the close future. Rademaker is ready to support the Chinese bakery industry. We take the Chinese bakery industry very seriously and are honored to be the first and only bakery equipment manufacturer to set up a Technology Centre specifically focusing on the Chinese market'' says Onno Kuiper, Manager Rademaker China and Senior Technologist.''
Possibilities of the RCTC
• Product development and testing: The RCTC is a facility to test products, -processes and develop new products. It is a tool we offer towards our clients to expand their business.
• Production line and product demonstrations: Our clients can get familiar with Rademaker production lines to experience why they are considered the best production lines in the industry.
• Academy: In the RCTC we offer training for operators and technicians to improve knowledge level and performance. Training can be customized to the client's equipment and production processes.
• Seminars: With the RCTC we can offer seminars, both to our clients as for our clients towards their customers.
• Strategic meetings and presentation rooms.