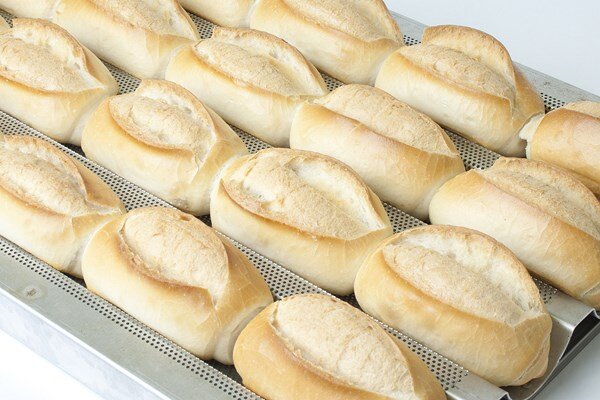 Pao Frances production line
The Pao Frances production line is based on the following system; Sheeting system containing of a chunker to receive doughbatches from mixer, LSS dough sheet system, quick reducer, gauging station, cutting knives to cut lanes, spreading belt, guillotine, watersprayer and Moulder to form the pao frances.
Possible configuration of sheeting lines available: 600 mm - 800 mm - 1000 mm - 1200 mm.
Depending on configuration line can be connected to freezer-belts or trays.
Linha para produçäo de päo francês
Baseada nos seguintes parämetros, Linha de laminaçäo contendo os seguintes equipamentos. Cuba elevada com pré-porcionador de massas para recebimento de cargas de masseiras, Sistema de formaçäo de lamina de massas LSS (Low Stress Sheeter), Laminador por roletes mûltiplos, Laminador por cilindros (calibrador), Facas rotativas para corte de linhas de massa, Esteira distanciadora de linhas, Guilhotina, Umidificador e Moldador para formar o päo francês.
Configuraçöes possfveis de linha de laminaçäo de largura de 600 mm - 800 mm - 1.000 mm - 1.200 mm.
Dependendo da configuraçäo, a linha poderá ser acoplada diretamente à esteira de entrada de urn conge­lador em espiral ou com depositador em bandejas/assadeiras.
Information Pao Frances production line
Weight : 60 - 85 gram
Raw length : 80 mm (after moudling)
Cutted dough width on line : 55 mm (before mouldig)
Number of rows : 6 - 8 - 10 or 12 rows
Capacity : between max 65,000 & 72,000 pcs/hr
Strokes per minute : 110
Kilo capacity : 4,000 - 5,000 kg/hr.
Especificaçäo Linha para produçäo de päo francês
Peso : 60 a 85 g
Comprimento massa crûa : 80 mm (após moldagem) : 55 mm (antes de moldar)
Largura de carte da linha de massa Numero de linhas : 6 - 8 - 10 ou 12 linhas
Capacidade : de 65.000 a 72.000 peças por hora
Cortes da guilhotina : 110 cartes / minute
Capacidade de produçäo : de 4.000 a 5.000 kg/h