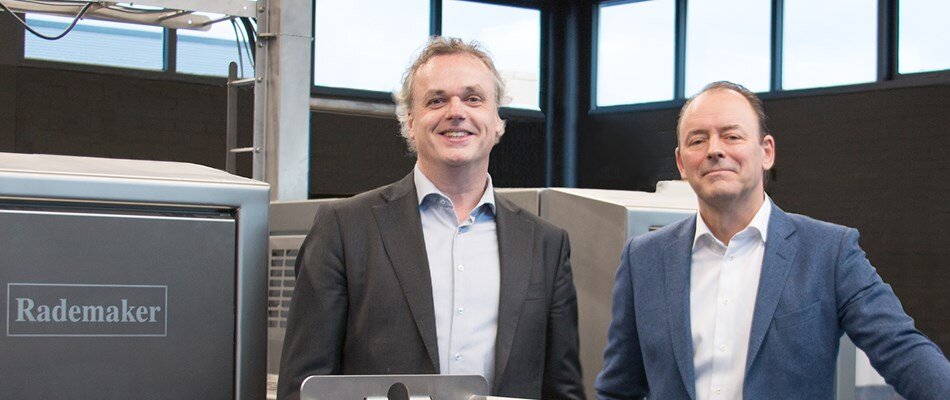 Facing the future with confidence with new ceo's
On January 1st 2018, Jeroen van BLokland will step down as CEO at Rademaker BV. As from that date, Gerard Muermans and ROland Kals, currently Commercial Director and Technical Director at Rademaker, will take over the operational management activities for Rademaker and its subsidiaries. In the new management structure, the two newly appointed CEO's will be supported by the existing team of directors. In addition, Muermans and Kals have been appointed executive members of the Board of Directors of the holding comapny Racu BV.
To prepare the company for future challenges, Rademaker decided on a new management structure, that guarantees the required talent, skills and motivation to handle the company's operational management, as well as the strategic development and execution of ambitious growth plans. The new structure also facilitates the next generation in this family-owned company to achieve the joint goals with fresh impetus.
Rademaker strongly feels that the company should remain to be headed by the current Board of Management, under the leadership of Muermans and Kals. Company owner Van Blokland will remain chairman of the Board of Directors of Racu BV, focusing on business development and real-estate projects. In addition, Van Blokland will play an important role in determining the company's long-term policy. As a result, he will remain closely involved in the Rademaker organization.
The new CEO's, Muermans and Kals, have successfully worked together at Rademaker for the last ten years. While they will each have their own focal areas within the Rademaker organization – Muermans is to focus on the external, commercial side of the business, while Kals will be responsible for the internal organization, technical issues and R&D -, they will closely work together to create an agile management. Rademaker strongly feels that Muermans' and Kals' insight and complementary skills set, combined with their experience in making team decisions on important topics, will further enhance and improve the management structure of the company, allowing the company to grow and strengthen its already leading position in the world of industrial bakery equipment.