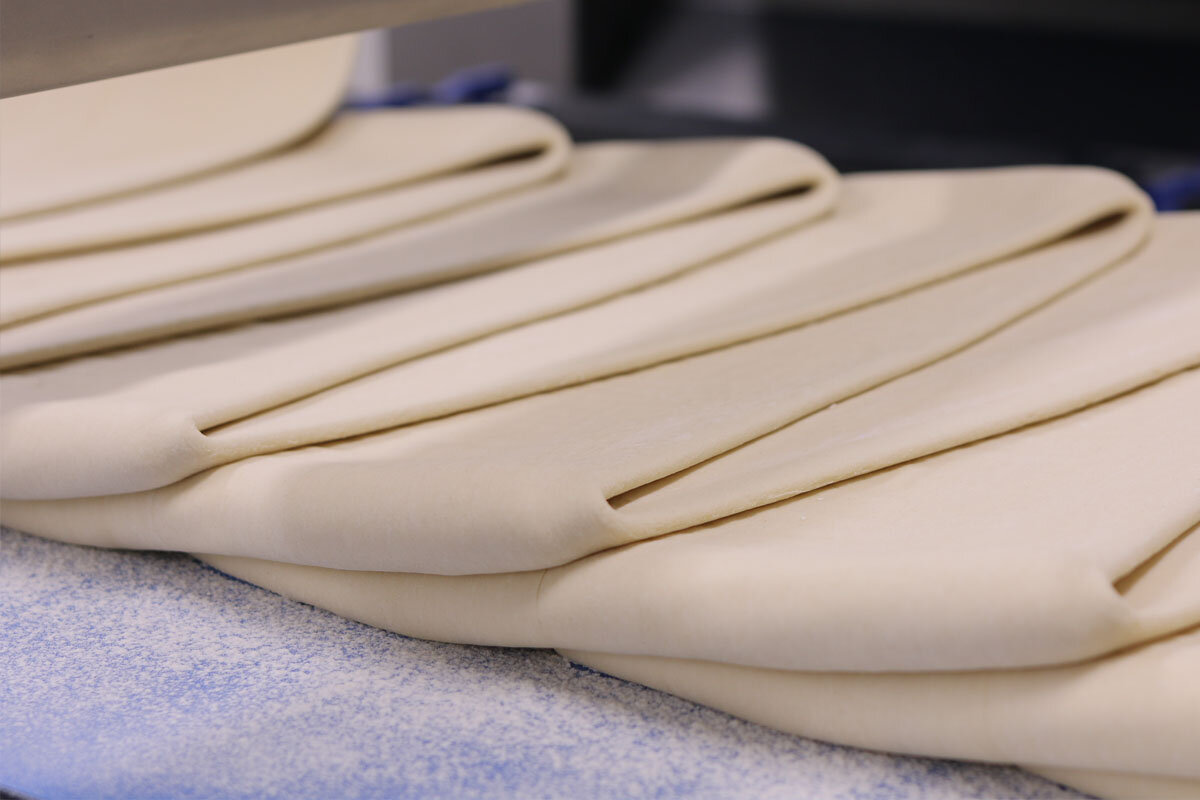 Expand your high-quality production with Radini
Laminating is creating multiple fat/dough layers and is essential to produce tasty and high-quality pastries and croissants. It creates volume, a light structure and crispy crust. 
 
Our laminator produces laminated dough. Briefly this is achieved by enclosing a layer of fat in the dough, laminate this multiple times and sheet it to the required thickness. With its intuitive interface the Radini laminator is easy to operate and ensures a consistent uniform dough sheet. This process can take place fully automated, or by a combination of manual and automated processes. 
 
Based on your requirements (capacity, number of layers, automation degree, lay out of your production facility etcetera) the characteristics of the production line can be defined. We offer a variety of modular configurations with different lamination possibilities and various set-ups. This allows your company to scale production without having to make any concessions in product quality. Radini offers a high level of automation with a small footprint. 
 
• Working width: 600 or 800 mm 
• Capacity: 250 up to 1.000 kg dough per hour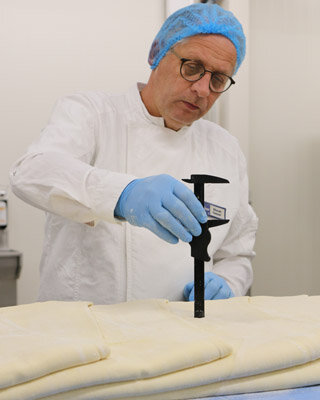 1. Pre-sheeting
The dough batch is fed into a chunker or directly into the extruder. Producing a continuous dough sheet with a consistent height and width to ensure a stable dough/fat ratio during fat inclosing.  
2. Fat application
Adding a continuous fat layer is a precise process because any inconsistencies in quantity of fat, has a major influence on the volume and taste of the baked product. The fat sheet is applied, folded into the dough, after which the combined sheet of dough and fat is reduced. Fat application can be done either manually or automatic by means of the Radini fat pump. 
 
RADINI FAT PUMP
The pump turns blocks of fat (butter, margarine etcetera) into a continuous sheet. The thickness of the fat sheet is adjustable, depending on the desired product characteristics. An undisrupted flow of fat is key for producing laminated doughs with consistent quality. 
 
Furthermore, the Radini fat pump offers: 
• Fast and easy cleaning: fully dismountable 
• Easy storage: mobile unit with foldable conveyor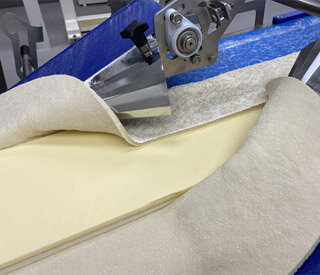 3. Laminating 
The Radini laminator produces numerous (dough and fat) layers with extreme precision to create a flaky and crispy product with a high volume. Your product specific recipe parameters will be saved in the operating panel. Allowing you to simply change the number of layers and all associated settings will change automatically. 
 
We offer two laminating methods: horizontal laminating and cutting and stacking. 
HORIZONTAL LAMINATION
The belt with the dough sheet moves slowly forward above the below running conveyer. When it reaches the furthest position, the belt quickly retracts and the dough is transferred to the next belt. The dough sheet is thus folded (laminated) over each other several times.  
 
Features: 
• Asymmetric lamination  
• Suitable for various doughs 
• Lamination of 4, 6 or 8 layers per section 
• No risk of fat extraction ass it is well enclosed by the dough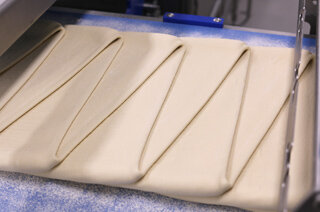 OPTIONAL FEATURE: CUTTING AND STACKING 
The dough sheet is cut into rectangular sheets, the belt with dough sheet moves slowly forward and then retracts quickly above the next conveying belt. The rectangular sheets are stacked on top of each other. 
 
Features: 
• Symmetrical lamination 
• Lamination from 3 up to 8 layers per section 
• Reduction of shrinkage due to the stress relieve after cutting the dough 
• The cutting function can be switched off if required 
• Would you like to know more about the specific features or consult on the method most suitable for your products? Contact us! 
Technology Centre
To best serve our customers, we have a Technology Centre. The place where our experienced dough technologists are delighted to establish a partnership with you. Our Technology Centre, with Radini laminator and make up section, enables us to offer: 
• Demonstrations and product tests 
• Product development 
• Training for operators and maintenance employees 
Find out more here.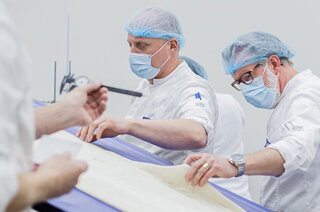 4. Sheeting
In various steps the laminated dough is reduced to the desired thickness and width. Several units with unique characteristic are used for this purpose. A uniform sheet is created that will give the volume and flaky structure you desire for your products. 
 
After the sheeting and laminating process, it is possible to:  
• Produce dough blocks for offline resting and cooling 
• Add a Radini make up line to produce a variation of products.
Block making for offline resting and cooling 
The created dough sheet is manually or automatically cut to size. The sheets can be folded to achieve 2, 3 or 4 additional layers. The dough blocks will be placed on racks after which cooling and resting can take place. 
 
Resting ensures less dough tension, over time creating more flavour. When butter is used, cooling is recommended to ensure the right consistency between the butter and the dough. Without cooling the butter becomes too soft and causes a loss of fat layers, which is ultimately reflected in the quality of the end product.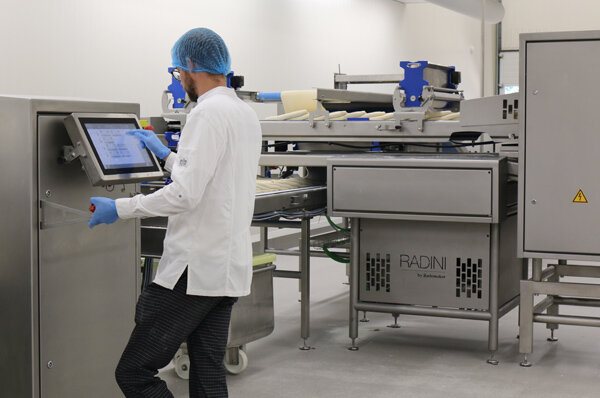 HMI control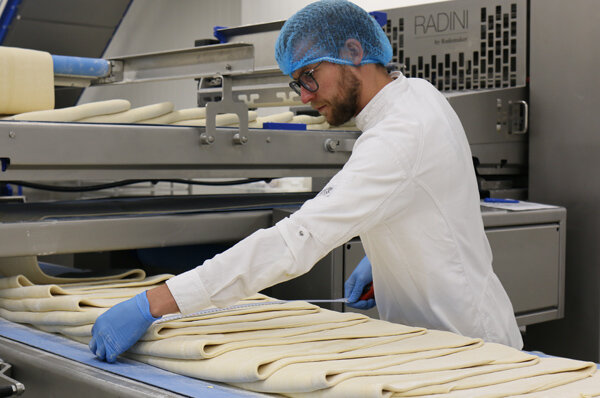 Measuring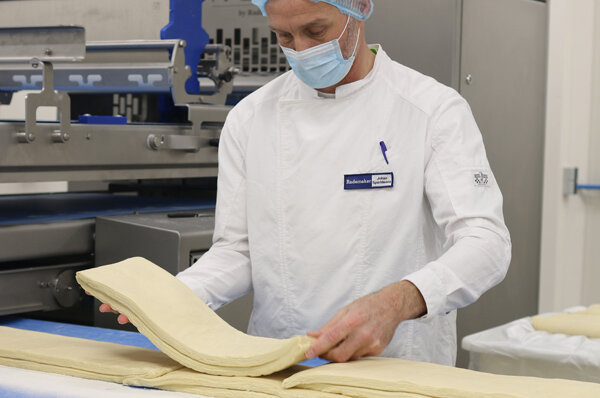 Laying blocks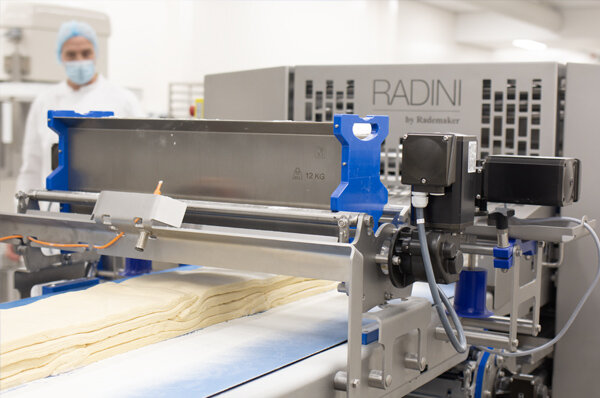 Block processing
Modular configuration
Every bakery has its own preferences and methods to reach the products of their liking. Based on your requirements (capacity, number of layers, automation degree, lay out of your production facility etcetera) the characteristics of the production line can be defined. 
 
A selection of Radini configurations provide various possibilities for your lamination process. 
Possible configurations: 
• 2 section laminator available in L shape (left or right orientated) 
• 3 section laminator available in U, S or Z shape  
• Inline laminating (straight lay out)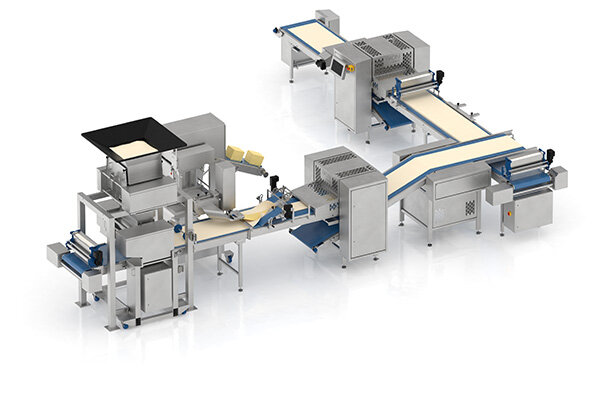 The German Barbarossa opted for a 2-section laminator. A crucial factor for this decision was the strong focus on the quality of the baked goods and high quality of standards in the machine construction of the Radini laminator. Read more.
Added value
Radini laminator designed to produce a high-quality laminated dough sheet on a semi-industrial scale
Ease to operate
Small footprint
Consistent uniform quality
Modular configuration
Semi- or fully automatic
Let's get in touch!
Are you interested in producing dough blocks or a continuous laminated dough sheet? Let's get in touch! 
Call +31 (0)345 543 543
E-mail office@rademaker.nl
Or reach out to your regional sales office, click here.