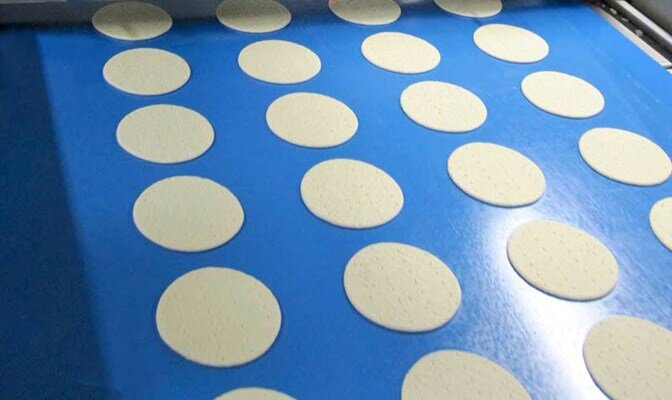 TRADITIONS OF THE PAST TRANSFORMED INTO EFFICIENT PRODUCTION
Flatbreads go centuries back in time and are getting more and more popular Worldwide because of the healthy image and the large variety of consumption. The need for high capacity Flatbread production lines has therefore increased. We have therefor transformed the traditions of the past into a state-of-the-art production line. The development of Flatbread Sheeting lines is one of the core competences of Rademaker. The lines generate a consistent and stress-free dough sheet by means of the Rademaker sheeting technology.
The production line is designed to meet your specifications and capable of handling a broad range of dough types, different shapes and sizes so that your unique product can be made. The flexibility offered by our high volume Flatbread lines means that we can make and create any style of authentic and unique bread, exactly to your requirements. Rademaker Flatbread Sheeting lines are able to process all kind of dough's, from green to strongly hydrated. Dough thickness can range from one millimeter to a few centimeters thick. Therefore, a wide variety of products with the market leading quality our customers expect can be made. Working widths ranging from 600 mm – 1,600 mm. Production capacity can lead up to 12,000 kg dough per hour.
Interested in the Flatbread Sheeting line? Contact our sales team: +31 (0)345 543 543.