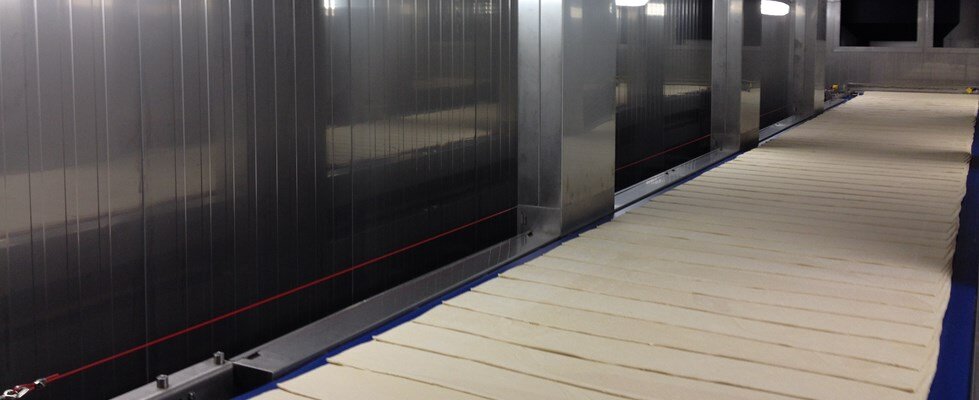 cooling and resting
Cooling & Resting are proven steps in the continuous processing of laminated & sheeted dough. Integrating these processes in a (semi-) automatic production line requires specific skill and high-level engineering in order to meet high product quality standards.
Cooling process ensures that the integrity of the layers remains perfectly intact. It also makes sure a perfect consistency of fat & dough is achieved. This results in a significant improvement for further processing of the dough sheet. The Resting process ensures that your products obtain the best possible taste and shape/volume, which is resulting from a combination of dough relaxation (stress reduction) and controlled yeast activity. Outcome of this process is the development of mono sugars and (by Danish Pastry and Croissant) CO2.
With our Cooling & Resting system we have transferred the artisan traditions of the past into an industrial process. And we are proud to have retained the artisan product quality on industrial scale. Rademaker Cooling and Resting systems operate through a unique concept: indirect air coolant. The cooling principle consists out of tubes that are positioned underneath the belt, creating an active air coolant. Because no air is directly blown onto the dough sheet, the dough will not dehydrate. With this system, a minimum coolant temperature of -17 C can be achieved. This method is highly efficient and guarantees the best possible temperature control. The indirect cooling principle reduces unwanted vaporization to an absolute minimum. On top of that, this system guarantees your food safety by fully excluding chemical cooling agents from the process. As expected from Rademaker, the system is developed within the highest industry requirements with regards to hygiene. Various sensors allow you to control a perfectly safe positioning, handling and tracking of the dough throughout the process module. Because of the modular design, high flexibility is enabling the system to fit within every required layout.
Rademaker cooling and resting cabinet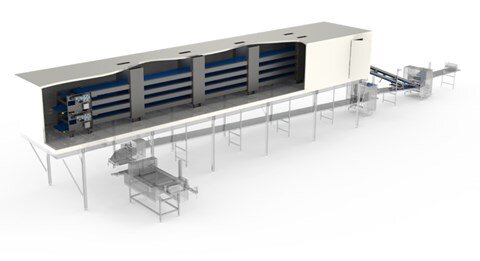 Interested in the Sigma Laminator? Contact our sales team: +31 (0)345 543 543.