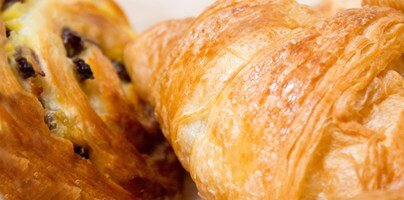 Power to efficient pastry production
The Rademaker Universal Pastry Make-up line shapes your pastries just the way you want it. Non-stop production of large quantities at high speed with a superb product quality. Working widths range from 600 mm up to 1.600 mm. Our Pastry production line features a flexible and modular design, always combining the best quality with an optimal capacity, quick product changeovers, low maintenance and superb hygienic characteristics. Standard built-in innovative technology and the use of high-quality materials makes the Pastry production line an investment that offers the best value for money and the best return on investment (ROI). The unique combination of proven and new technology, plus attention for detail guarantees Rademaker to be your perfect partner in baking solutions.
Our Universal Pastry line consists of a number of modules, designed to flexibly meet your requirements. Mono-production or multi-production, mid-range or industrial volumes, it is up to you. In a partnership relation with you, Rademaker will configure the Universal Pastry line that best meets your needs, keeping in mind your demands and requirements.
KEY ADVANTAGES
Tool Assistant software and Unique Fit Tooling© for fast & easy change-over
Cost reduction due to easy clean ability & sanitary operation
Efficiency improvement due to advanced process control
Hygienic design exceeding customer requirements
Improved accessibility contributes to ease of maintenance
Highest possible level of user friendliness
NEXT GENERATION
With our new Universal Pastry line you can produce all kinds of pastries and laminated products in any shape and size, unfilled or filled with the finest sweet or savory fillings. A significant reduction of your cost of ownership is achieved through numerous improvements such as the most efficient and error free tooling change over, low maintenance and simplified intuitive operation. Additionally, the first generation of machines was already designed for wet cleaning and the new generation will take you to an even higher level of hygiene.
Interested in the Universal Pastry line? Contact our sales team: +31 (0)345 543 543.