filled croissants
Your croissants can be filled with a wide variety of fillings; sweet or savory, semi-liquid and solid fillings, but also double fillings (duo-color) fillings with particles like ham, apple, etc. We can deliver the right depositing solution for your specific type of filling as we are able to process a large variety of filling materials. It is also possible to inject your fillings after baking when required. In that case we can deliver our injecting system that is extremely accurate.
All depositors are designed according to the high end Rademaker standards guaranteeing outstanding reliability, durability, hygiene, easy cleaning and maintenance. On top of all this, Rademaker depositors achieve best-in-class accuracy and excellent product weights. This results in an extremely cost efficient production.
Discover the Rademaker moulding & filling technology
Filling types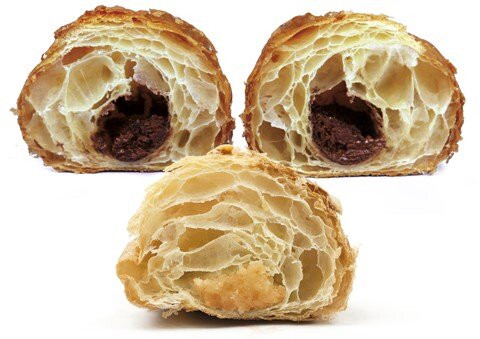 Example of chocolate and almond paste fillings that give croissants an extra taste.
Horizontal Structure