PIZZA BASE PRODUCTION
Rademaker's Pizza Base line is dedicated for the production of exactly those types of pizzas you want to produce. In developing a solution, Rademaker will therefore keep your specifications and requirements in mind. If you produce sheeted pizzas, we will incorporate either one of our extruders or a low stress pre-sheeting system; if you prefer pressed pizzas, the line will include a blocking dough forming system. Either way, pizzas in any shape or form can be generated. Rademaker's Pizza Base line has a working width that varies from 600 to 1,600 mm, with capacities that depend on the product and the thickness of the dough. The line is designed such that all parts are easily accessible for cleaning purposes and only a minimum of maintenance is required.
Proofing
Rademaker is able to produce and place a proofer into the Pizza Base line. It can be placed inline to proof continuous dough sheets prior to the product stamping and/or cutting, it can also proof individual dough products. Together with you we can determine what solution best suits you and your products.
EXAMPLE OF A RADEMAKER PIZZA BASE LINE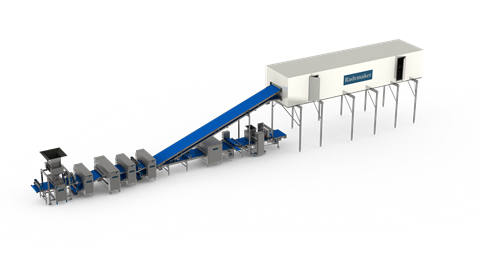 The shown image is a basic example of a Rademaker Pizza Base line. No Proofing cabinet is included.