PIZZA TOPPING
Rademaker Pizza Topping solutions are automated systems that can create topped pizza with tomato sauce, vegetables, grated cheese, ham and/or pepperoni cubes, etc.. Rademaker developed two different Pizza Topping systems to top your pizzas exactly the way you want. Both Topping systems feature a variety of depositors and applicators. The modular design of the lines ensures flexibility and fast product changeovers. With respect to cleaning, maintenance and operation, the Rademaker Pizza Topping systems are designed to meet the latest technical, hygienic and technological standards.
WATERFALL PIZZA TOPPING SYSTEM
The Rademaker Waterfall Pizza Topping system is suitable for pizza toppings of various shapes and diameters as well as for pizza-related products like pizza baguettes, pizza sticks etc.. High accuracy, high output and flexibility are the characteristics of the Waterfall Pizza Topping system. To achieve maximum efficiency, the system can be equipped with a recirculation system that feeds both recirculated individual Quick freezing (iQf) materials and fresh materials onto the applicator. An optional weighing conveyor for a controlled infeed of materials ensures that accurate amounts of topping are deposited.
TARGET PIZZA TOPPING SYSTEM
With this system pizza bases can be introduced manually or automatically by means of a pizza base dispenser. The system is equipped with target applicators for strewing various ingredients using fixed shaped travelling hoppers set for 'indexed' pizza topping systems, leaving the rim of the pizza free of topping.
Waterfall topping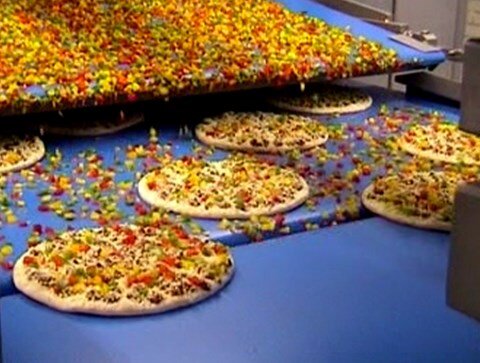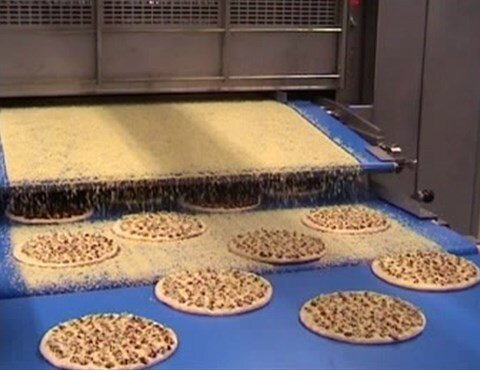 Target Topping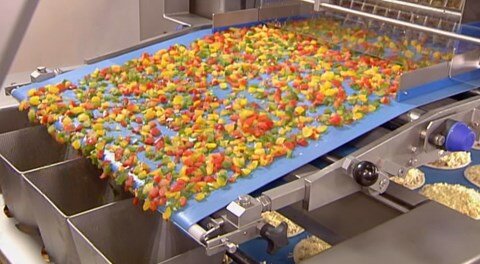 Interested in the Pizza line? Contact our sales team: +31 (0)345 543 543.