Added value
We are a full-solution provider when it comes to pizza production for the pizza bases or complete topped pizza.
PROFITABLE PIZZA PRODUCTION
We are a full-solution provider when it comes to pizza bases or complete topped pizza production. Thanks to a modular design, great flexibility and a wide product variety your pizza production will be much more efficient. Our equipment have a very hygienic design with fast and easy change-over, and cleaning possibilities.
Suitable for pizzas in various shapes and sizes, pre-proofed or in line proofing, as well as alternative products and varieties like pizza baguette, pizza sticks, etc. Working width of the pizza production line vary between 600 mm up to 1,600 mm and dough capacities can go as high as 14,000 kg/hr.
WORKING WIDTHS
600mm | 800 mm | 1,000 mm | 1,200 mm
1,400 mm (Pizza base only)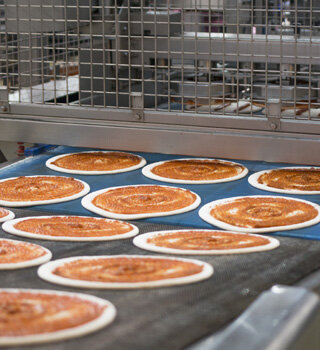 CAPACITIES OF OUR PIZZA MANUFACTURING MACHINE
The Rademaker Pizza Base and Topping lines are designed for semi-industrial to full industrial bakeries. Production capacity can lead up to 6.500 kg dough per hour (special execution: 14,000 kg per hour), consistently produced hour by hour, day by day, year by year.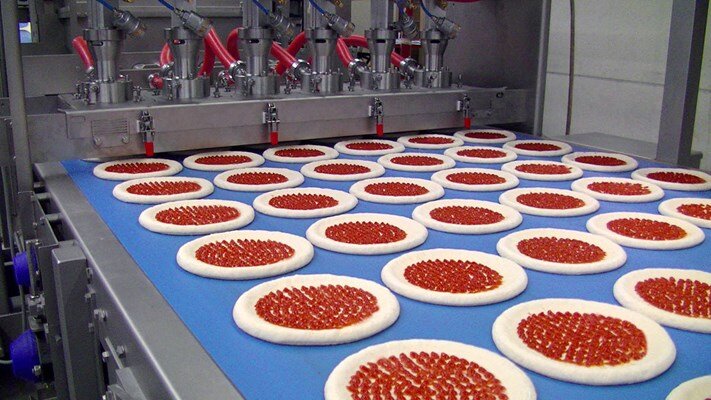 High precision, high capacity, flexibility and hygiene are key aspects of our Pizza production lines. Standard and customized solutions are possible. Due to our decades of worldwide pizza production experience, we can support you any way we can!

WE SUPPLY 2 DIFFERENT PIZZA LINES
KEY ADVANTAGES OF OUR PIZZA LINE
• Excellent Return On Investment due to high performance and efficiency
• Great flexibility and wide product variety
• Fast & easy change-over and cleaning
• Rademaker is full solution provider (Base, Topping & Turn-key)
• Standard and customized solutions possible
GET IN TOUCH WITH US
At Rademaker we can deliver different types of bakery production solutions for your specific needs. We are excited to be of value for you!
Are you interested in our Pizza production line? Feel free to contact our sales team through +31 (0)345 543 543, send an email to sales@rademaker.nl or fill out our contact form.
We are happy in welcoming you to a partnership finding the best solution for your bakery!