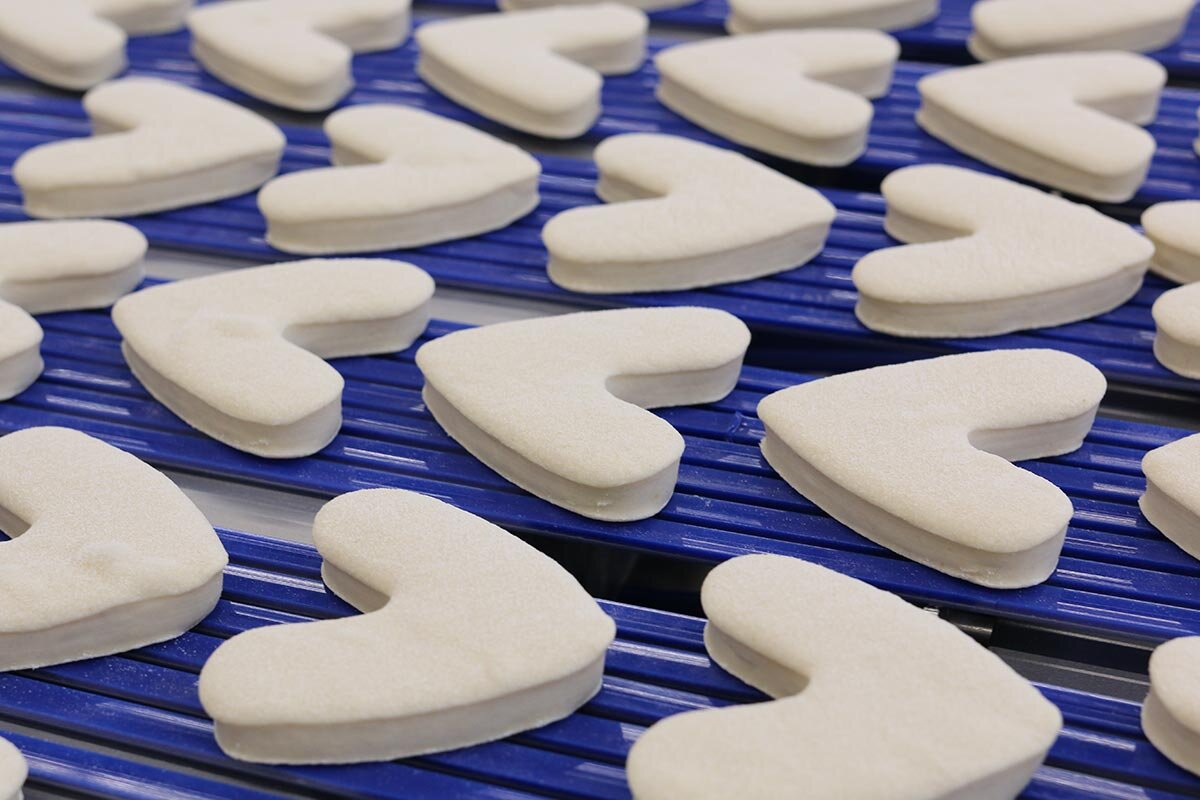 For fluffy donuts with a soft bite
The Radini donut line is suitable to produce various shapes and sizes for the most delicious varieties of deep-fried products, for example: cinnamon rolls or ring donuts and many more custom designed shapes.
Your product specific recipe parameters will be saved in the operating panel, where after you can simply select the product that you want to produce. Automatic recipe driven in- and outfeed control synchronize the production line setting result in repeatable consistent dough- and product quality. Tools can be easily mounted and dismounted through a quick exchange setup, allowing for quick and easy product changeovers.
Working width: 800 mm
Capacity: up to 800 kg dough per hour
Circa 11,700 ring donuts per hour
Circa 14,000 heart shaped deep-fried products per hour
1. SHEETING
To maintain soft, fluffy dough, the dough is guided stress-free through the line. The first step is performed by the pre-sheeter, this unit ensures that the dough batch is transformed into a continuous dough sheet. After which the dough is gently shaped to its required thickness. Outfeed conveyors ensure a tension-free transfer resulting in accurate control of the product shape.
2. Make up
After the sheet has its desired thickness it is ready for shaping. Shaping happens with the help of the required tooling, ring donuts are cut while cinnamon rolls are rolled.
Various shapes and sizes can be produced on the same production line by simply adapting tooling. Your staff can easily mount and dismounted the tooling because they are lightweight and ergonomically designed.
3. Spreading and further processing
After the shapes have been cut, the rework dough is removed. Ready to be used in the next dough batch.
It is possible to manually shape products, as an example the products can be manually folded into a knot. If required, additional working space can be created. The products are supported and spread to the right pitch, by means of a highly reliable and durable conveyer. The perfectly shaped products are now ready for proofing.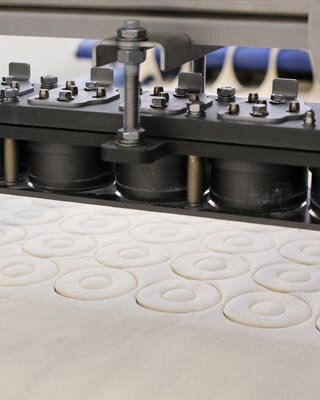 Possible product shapes:
Ring donuts
Square donuts
Snowflake clusters
Long John's
Cinnamon rolls
And many more custom designed shapes!
Added value
Radini donut line designed for gentle dough processing on a semi-industrial scale
Easy to operate
Consistent product quality
Intuitive controls
Variety of perfectly shaped products
Quick and easy change-over
Let's talk donuts!
Are you producing donuts? Do you want to know more about the features or possibilities of our donut production line? Get in touch, we are happy to talk about your needs.
Call +31 (0)345 543 543
E-mail office@rademaker.nl
Or reach out to your regional sales office, click here.