Added value
The overall set-up of the Universal pastry line is designed for high production efficiency.
POWER TO EFFICIENT PASTRY PRODUCTION
Our Universal Pastry line allows you to form and shape (mostly laminated) dough into high-quality pastries, just the way you want it in large quantities suitable for midsize to industrial bakeries. The production line can handle a large variety of dough types with a broad range of shapes and sizes.
The Universal Pastry line can be equipped with a wide variety of options to shape your dough and is suitable for mono-and/or multi-production. To add to its versatility, the production line can also be equipped with numerous tools that are designed for fast and easy change-over. Decorating by means of depositors, egg yolk or water spraying systems, universal dispensers or a fruit and cheese applicator is possible as well. Each operation is carried out automatically. Capacities are depending on product size and weight but range between midsized to industrial volumes.
After shaping, the products can be transferred automatically to a proofer, a freezer or baking trays using a retracting belt or in-line tray loading
WORKING WIDTHS
600 mm | 800 mm | 1,00 mm | 1,200 mm | 1,400 mm| 1,600 mm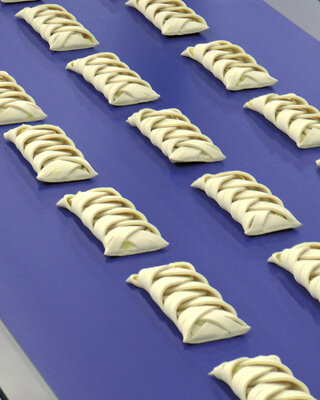 FLEXIBLE AND MODULAR DESIGN
The production line features a flexible and modular design, always combining the best quality with an optimal capacity, quick product changeovers, low maintenance and superb hygienic characteristics. Standard built-in innovative technology and the use of high-quality materials makes the Pastry production line an investment that offers the best value for money and the best return on investment (ROI). The unique combination of proven and new technology, plus attention for detail guarantees Rademaker to be your perfect partner for bakery production solutions. Pastries can be shaped with different shaping methods.
Pastries can be shaped with different shaping methods. Find out more how we have translated the baker's hand into automated tooling. Read more.
Are you producing Donuts? Click here. To produce filled products we have developed several depositing systems. Read more about our depositing solutions here.
TOOL ASSISTANT
To simplify operations and changeovers Rademaker designed the unique Tool Assistant. The tool assistant contains a chronologic list of tools. Line configurations and tooling info can be saved, enabling easy reproducible line settings. All line and tooling data can be exported to the operator panel, a tablet or printed as hardcopy. To make the Tool Assistant even more user friendly, pop-up screens in the operator panel explain the settings.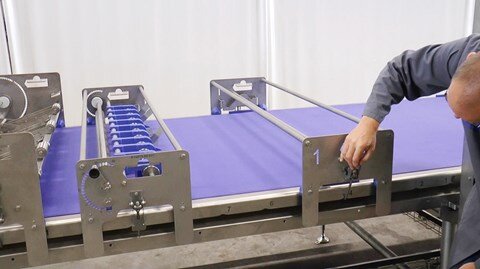 HYGIENIC DESIGN
The Universal Pastry line is designed according to the highest Rademaker hygienic design standards. These guidelines are directly derived from various high-end requirements for hygiene and clean ability, such as the GMA standard and EHEDG recommendations. The line is living up to the highest industrial requirements for hygiene, among others by:
• Excellent machine surface finishing;
• Tilted surfaces;
• Rounded frames;
• FDA approved materials;
• Minimized hinges & bolts.
The elimination of recesses, cavities and dead corners is achieved. The machine's open design enables easy cleaning without reducing the operator's safety. Belt lifters and retractable belt tensioners achieve accessibility for cleaning and inspection.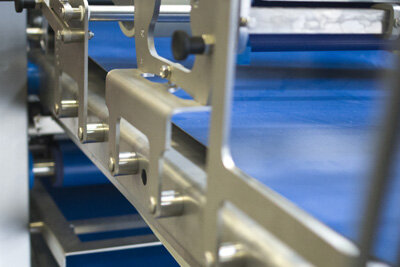 KEY ADVANTAGES OF OUR PASTRY LINE
• Highest possible level of user friendliness
• Quick and easy change-over thanks to tool assistant software and unique fit tooling
• Efficiency improvement due to advanced process control
• Cost reduction due to hygienic design
• Improved accessibility contributes to ease of maintenance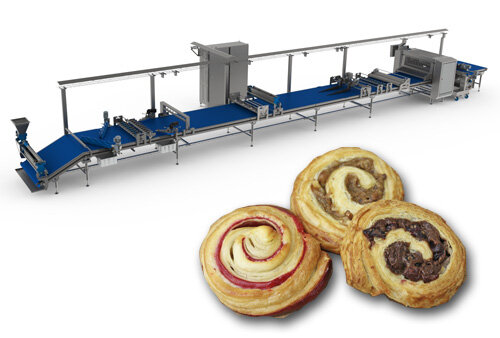 GET IN TOUCH WITH US
At Rademaker we can deliver different types of bakery production solutions for your specific needs. We are excited to be of value for you!
Are you interested in our Universal pastry make-up line? Feel free to contact our sales team through +31 (0)345 543 543, send an email to sales@rademaker.nl or fill out our contact form.
We are happy in welcoming you to a partnership finding the best solution for your bakery!