WHERE ARTISANAL MEETS AUTOMATION
If you are looking for flexible and high quality dough processing equipment, Radini offers you outstanding solutions. Scaling up your production capacity or expanding your product range is brought within reach. Radini offers you the possibility to partly or fully automate your production process. If desired the automated process functions of Radini can be combined with manual process steps such as dough supply, fat application, offline resting and cooling as well as additional shaping steps for specialty products.
With our expertise we are excited to guide you through the transition of an automated production process. Helping you achieve your ambitions is our priority. Our ultimate goal is to provide you with solutions that allow you to create beautiful, high quality products that exceedyour customers' highest expectations.
CAPACITIES
Radini is optimized for a production capacity that ranges between 400 to 1.000 kg dough per hour.
WORKING WIDTHS
The working widths of the equipment range between 600 mm to 800 mm.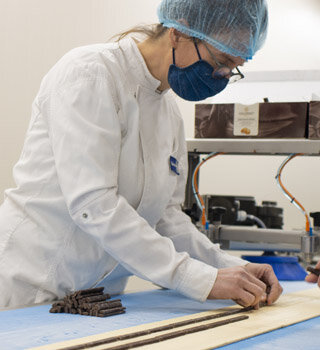 INTEGRATION OF AUTOMATED AND MANUAL PROCESSES
We offer you the opportunity to flexible combine automation with manual operations because you might want to surprise your customers with new and innovative products. You might temporarily want to add a product to your product range or you might want to add a signature product to your product range, , you also want to surprise your customers with new and innovative products. Radini gives you this freedom.
Possible manual processes that can be integrated are applying a fat sheet, dough sheet layering, dough block handling, applying filling and/or toppings, shaping products by hand and manual tray loading.

SMART AND AUTOMATIC PROCESS CONTROL
Radini lines are executed with automatic process control features. Automatic gap adjustment, infeed and outfeed control synchronize the production line settings to create an optimal, stress-free dough sheet. This cascading speed system ensure a consistent and high quality product at the end of the line.

ADDITIONAL MODULE
CROISSANT SHAPING MODULE
Our croissant module is an addition to the Universal make up line. The croissant module functionality consists of small number of additional units, based on movable frames. This flexibility enables a minimal impact in your bakery while making croissants in various shapes and sizes!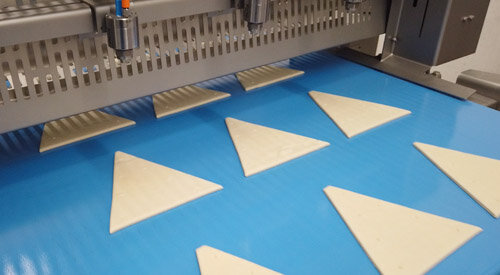 RADINI CUSTOMERS CAN BENEFIT FROM
TECHNOLOGICAL SUPPORT
Visit our Technology Centre and experience the many possibilities of our Radini lines. We offer testing possibilities as well. If desired we can help you with product development, for example when you run into certain issues or want to (re)develop products. Our skilled bakers will be pleased to advise you on all desired processes concerning the production of bakery products. Together with you, we will come up with the product that suits you best.
24/7 SERVICE
If you run into problems, you want to be helped as quickly as possible. We are at your service 24/7. Because we think the service does not stop after delivery of the equipment.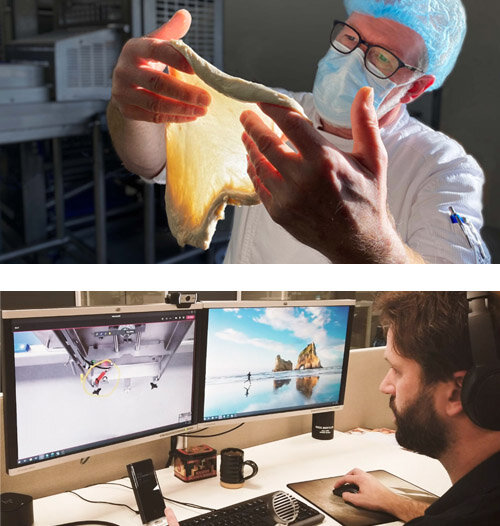 Added value
We understand your craftmanship. Discover Radini!
High flexibility
Predefined configurations
Compact footprint
User friendly machine operating
Highest hygiene levels
CONTACT OUR SALES TEAM
Are you interested in our Radini production solutions? Contact our sales team via phone +31 (0)345 543 543 or send an email to sales@rademaker.nl.