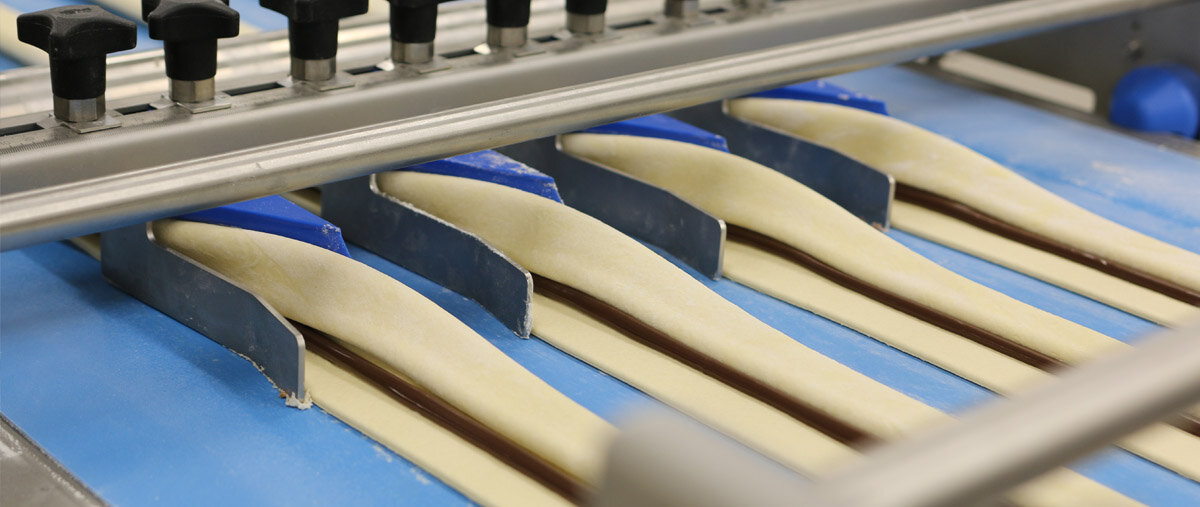 Linha de maquilhagem Radini Pastelaria
Where artisanal meets automation
Are you interested in increasing your production capacity or expanding your product range? Radini offers several possibilities to partly- or fully automate your bakery production processes, like the make up of pastries. Automated and manual process steps can be combined such as shaping, folding, filling and decorating. 
 
Plenty of possibilities
The Radini pastry make up line has a user-friendly machine interface which make it easy to operate the line. We offer a range of tooling enabling you to produce a large variety of products in various shapes. Due to the smart design, it is easy to place and remove tools from the line. This makes change overs fast and easy and ensures consistent and repeatable products. 
 
• Working width: 600 or 800 mm 
• Capacity: up to 1,000 kg dough per hour 
• Circa 14,000 folded products on 5 rows (60 x 120 mm) 
• Circa 7,200 croissants on 3 rows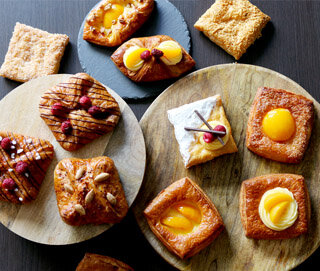 Shaping methods
In addition to the Radini laminator, Radini offers a pastry make up line with a range of tooling enabling endless possibilities to shape eye-catching and tasteful products. Products you can proudly present in your shop and offer your customers. 
 
Based on the shaping methods we categorized: rolling, folding, braiding, cutting and additional croissants. The shape of the product determines the required tooling. For more variation, and an even wider product range you can (partially) form the products manually to create your own designer products! 
Rolling 
The dough sheet is filled and then rolled; this can be done by using various tools in different configurations. Examples of rolled products are a sausage roll or a product with multiple rotations like a swirl or cinnamon roll. A double roll can also be created for a butterfly-shaped pastry. 
Croissant  
For the production of croissants in various shapes and sizes, filled or unfilled and if desired decorated. 
 
The Radini croissant module is an extension of our pastry make up line. It consists of a small number of additional units, all on mobile frames. The module requires minimal floorspace while allowing you to expand your product range with this famous (yeast dough) pastry. 
 
Click here for more information. 
Folding
The filled dough sheet is folded and cut into shapes. For when you want to create rectangular pockets, like an almond pocket, a book fold or even a filled twist (with additional manual action). Or products like D-shape and triangle which require a dedicated cutter (stamping tool). 
 
A well-known product that is made by means of multiple folds is the pain au chocolate. 
Cutting 
The (filled) dough sheet is split into lanes and product shapes are cut. For single- or double-layered, filled or unfilled and possibly decorated.  
 
Various shapes: produce round, triangle or even your own specific shapes (will design the cutter especially for you). For double-layered products it is even possible to decorate the top layer of dough with incisions or a lattice. 
 
Download our brochure or get in touch to know more. 
Braiding 
A pattern is created, a filling is applied, then a braiding unit folds the dough flaps on top over each other. A very popular Danish product is the maple pecan, a braided product filled with pecan paste, topped with pecan nuts and sweet maple syrup.  
Depositing
Automated- or manual filled, or a combination of both. Apply the tastiest fillings to your pastries. 
 
Automated depositing 
High weight accuracy and consistent application of filling are the benefits of using the Radini depositor. Fillings can vary from sweet to savory with different consistencies ranging from semi-liquid to firm pastes. Possible dosing patterns: dots/spots, dis-continuous stripes, continuous strips and evenly spread. 
 
• Easy operation from the main line control panel 
• Flexible and height adjustable nozzles​ to suit different dosing patterns  
• Hopper with incorporated feeding paddles​ to process the most difficult fillings 
• Mobile execution and fully wet cleanable for easy and quick change overs​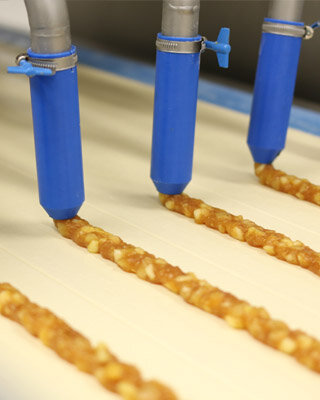 Topping and decorating
Our strewers provide your products with toppings such as sugar, seeds, raisins, chocolate drops and many more! Both automated and manual strewing (and a combination) is possible!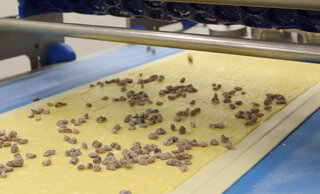 Added value
Radini make up line designed to produce eye-catching pastries on a semi-industrial scale
Ease to operate
Fast and easy change overs
Consistent uniform quality
Semi- or fully automatic
Versatile
Let's get in touch!
We are happy to go in dialogue with you and talk about your products, processes, desired level of automation, business goals and more! 
Call +31 (0)345 543 543
E-mail office@rademaker.nl
Or reach out to your regional sales office, click here.