Added value
Designed according to our latest hygiene and design standards, the Rademaker Croissant machine is truly state-of-the-art.
PROFITABLE CROISSANT PRODUCTION
For medium scale to full industrial bakeries, we developed a croissant making machine which produces a wide product variety. To fulfill your production needs we can offer numerous of production system configurations.
Croissants were among the very first Rademaker bakery production lines. We are proud that for centuries we are seen as the worldwide leader in croissant production lines. (Already for several decades, Rademaker is the recognized worldwide leader in croissant production lines.) Are you in need for a typical regional product like for example Italian or Spanish style croissants, Medialuna, gluten free or long shelf-life croissants? We are aware of the differences and preferences between countries and areas and offer various technological solutions. Our croissant machines stand for efficient production and excellent product quality. The fully automated lines represent our latest expertise and technology, resulting in a major reduction of manufacturing costs for frozen and fresh baked croissants.
WORKING WIDTHS
800 mm | 1,000 mm | 1,200 mm
In special cases we produce at 1,400 mm.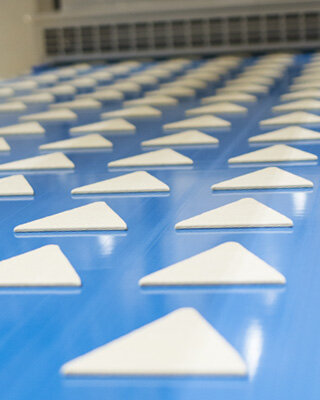 SHAPES AND FILLINGS
The heart of a Rademaker Croissant production line is the cutting and turning unit. It can achieve capacities of up to 200 strokes per minute at consistencies and yields much higher than other machines available on the market. Moulding the dough triangles into perfectly and consistently shaped croissants is essential an excellent shaped croissant and for efficient production. For more information about our moulding technology click here.
Practically all different types and sizes of croissant can be produced; straight, bent, filled, small or big croissants. We can offer the production solution that suits you best! Click here if you would you like to know more about the possibilities regarding curved and pinched croissants in particular.
Does your croissant require sweet or savory, semi-liquid, solid- or double fillings (duo-color)? We can apply all kind of fillings with our depositors. It is even possible to inject your fillings after baking.

CAPACITIES OF THE CROISSANT MAKING MACHINE
Are you producing unfilled croissants? Capacities of up to 200 strokes per minute can be achieved which means that you can produce up to 165,000 croissants per hour. Producing unfilled C-shaped croissants can go up to 96,000 pieces per hour and for pinched croissants we can reach capacities of 50,400 pieces per hour. Rademaker is very proud to have respected experience in producing croissants at a large scale.
Capacities for filled croissants (straight) can go up to 65,000 pieces per hour. For filled C-shaped croissants our croissant making machine can go up to 43,200 pieces per hour. Filled pinched croissants can be produced up to 42,000 pieces per hour.
KEY ADVANTAGES OF OUR CROISSANT LINE
• Up to 50% easier and faster cleaning and product changeover
• Increased production capacity to over 240,000 pcs./hour
• Increased efficiency and yields
• Improved ergonomics due to 30-70% lighter tooling
• Accurate, consistent, and durable
• Hygienic design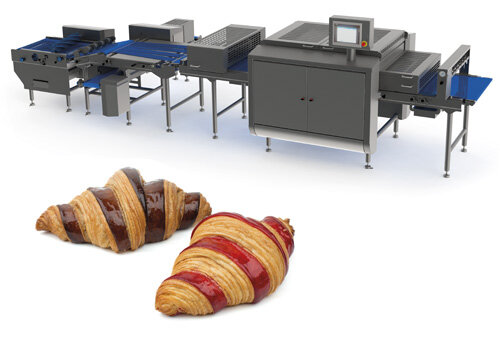 GET IN TOUCH WITH US
At Rademaker we can deliver different types of bakery production solutions for your specific needs. We are excited to be of value for you!
Are you interested in our Croissant line? Feel free to contact our sales team through +31 (0)345 543 543, send an email to sales@rademaker.nl or fill out our contact form.
We are happy in welcoming you to a partnership finding the best solution for your bakery!