ADDED VALUE
The overall set-up of the Rademaker Laminator is designed for high production efficiency. Operation is made as easy as possible.
Cost reduction thanks to minimised downtimes
User friendliness
Greatly reduced energy consumption
Advanced process control for efficient production
Quick and easy cleaning
Our dough laminating machine is developed to produce consistent laminated dough sheets for a semi-industrial bakery to any industrial bakery. The dough laminator can laminate the dough sheet up to 512 layers, depending on capacity and the line concept. Capacities range from 250 to 10,000 kg dough per hour, consistently produced hour after hour, day after day, year after year.
The development of dough laminators is our core activity. Our mission is to offer a dough laminating machine that produce the best dough sheet possible for your bakery products. In close cooperation with our valued customers, our laminators are set up according to the production volumes, the used fat type, the number of needed layers, the desired thickness and the dough reduction method. Let our experience and expertise that we have gained over the years work for you.
WORKING WIDTHS
600 mm | 800 mm | 1,000 mm | 1,200 mm
(optional > 1,200 mm)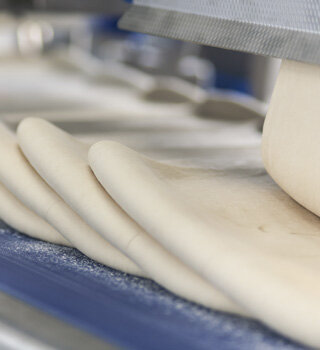 Our dough Laminator creates a consistent laminated dough sheet for the production of Croissants and Pastries.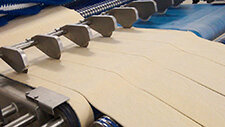 THE MAGIC OF STRESS-FREE DOUGH
The secret of quality pastry and croissant products originates in the dough laminating process. We use our experience in sheeting technology to develop innovative, stress-free laminating processes. Therefore, we can handle a broad range of dough, butter and fat types. In our quest to find the best laminated dough sheet, we have developed three laminating methods. Horizontal laminating,
Lapping and Cutting & stacking. For more information about laminating and layering click here.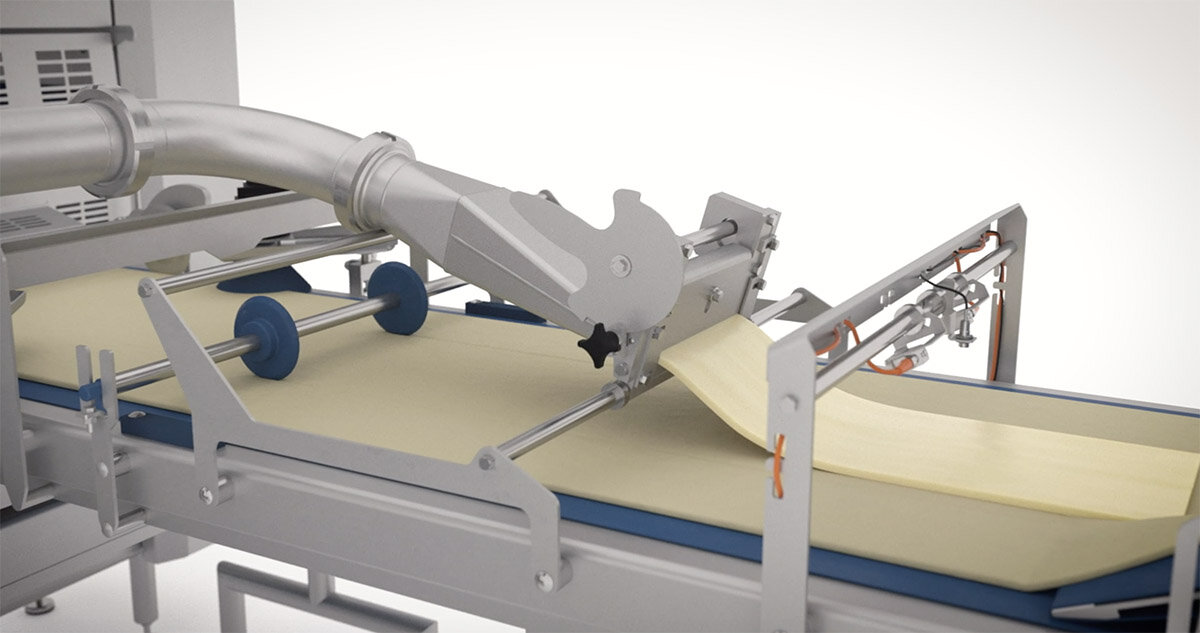 Thanks to a flexible design the Laminator combines high product quality with an optimal capacity, quick product changeovers and superb hygienic characteristics. Rademaker industrial dough laminating equipment always assures a high product output and the very best quality. To obtain the highest quality of dough layers, it may be necessary to cool and/or rest the dough sheets in a cooling and/or resting cabinet.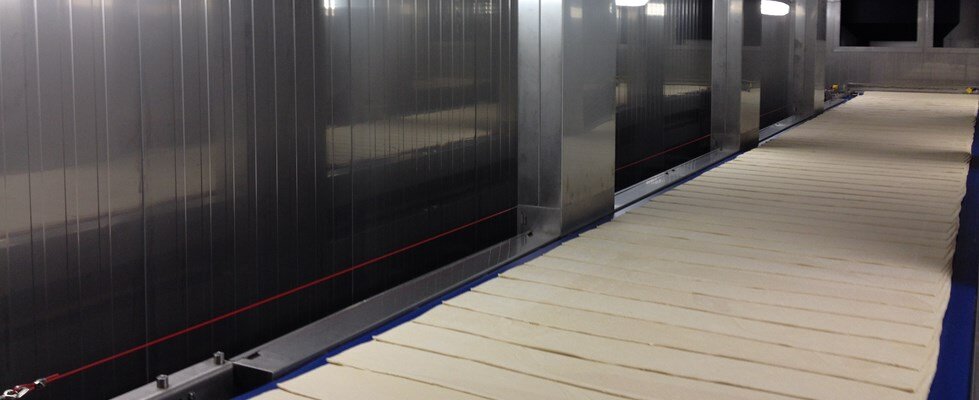 TAILOR-MADE LAYOUT
Rademaker Laminators are tailor-made using standard components. This flexibility allows for a wide variety of configurations, from a block processor to a fully automated Laminator. Our Laminators meet international hygienic standards and can consist out of one up to four laminating sections in different shapes (L-shape, U-shape, Z-shape, etc.) A laminating belt can also be set up straight in line. Thanks to this superb flexibility, the line can be optimally configured to meet your specific application, resulting in the best possible production efficiency. When you choose our Laminator, you choose the very best solution for your situation, including the development of customer-specific modules, if so required.
Sophisticated machine design
The sophisticated design of our tool positioning and structural help from the user interface guarantee the lowest possible impact of change-over times. The machines are designed to be easily accessible for maintenance, service and provide a good view on the dough process. This results in a minimal wear and increased lifetime of all sensitive items, in combination with minimized spare parts. Parts that require regular maintenance are located in easily accessible places and outside the production zone. Furthermore, quick belt release mechanisms reduce downtime during cleaning keeping maintenance to a minimum. This all results in less cleaning and maintenance time.
KEY ADVANTAGES OF OUR LAMINATOR
• Consistent and high-quality dough sheet
• Highly accurate fat applying
• Efficiency due to advanced intuitive process control and data handling
• Best possible level of user friendliness
• Optimal energy usage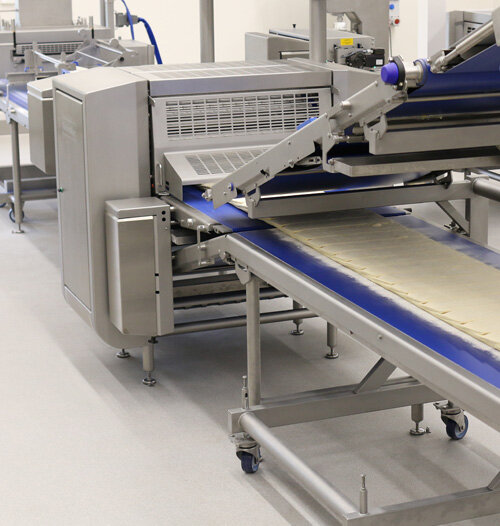 GET IN TOUCH WITH US
At Rademaker we can deliver different types of bakery production solutions for your specific needs. We are excited to be of value for you!
Are you interested in our Dough laminating line? Feel free to contact our sales team through +31 (0)345 543 543, send an email to sales@rademaker.nl or fill out our contact form.
We are happy in welcoming you to a partnership finding the best solution for your bakery!